I seem to be going through quite a few products, especially in the last few months. And this month was definitely no exception, I managed to get through a whooping 24 products to be exact!
Let's start with the first product that I didn't quite finish.. The

Gallery Club Nail Varnish in 419 Silver Sparkle

. I actually overdid it with the nail varnish remover to revive it as it had dried out. None the less, it's a perfect silver glitter nail varnish which I have since repurchased. Next up is the

MUA Primer

which I have a review of

here

. I loved using it when I first got it however over time, the scent started to go off and I really disliked using it from then onwards. Another product that crops in every monthly empties is the

Salon System Individual Lashes Ultra

which are my HG of lashes. They last a good couple of weeks before needing re-doing and are cheap as chips. The other product that I didn't quite finish is the

Collection 2000 Lasting Perfection Foundation

. The concealer of this I adore but the foundation is horrendous - it reacts so much with the air that it turns orange after a few hours that I'm just really wanting to get rid of. I enjoyed the coverage it gave but not the colour! My first ever bronzer was the

Maybelline Dream Mousse Bronzer in 03 Bronze

and I really enjoyed the colour payoff it gave until I discovered other bronzers. It had a weird consistency that needed a lot of buffing in but it lasted all day on my cheeks. I used up a sample of

UNE Skin Glow Foundation

which quite frankly is the worst foundation I've ever come across - it was so watery/oily that I didn't dare put it all over my face after depotting it into a little pot. The last makeup item I used up is the

Wild And Crazy Eyelash Adhesive

which is what I use to apply my lashes - its black, it makes them stick and it does the job nicely.
I've been on a mission to finish off all my body lotions and foot creams. The

Naturally Upper Canada Hand & Body Lotion

was my body lotion of choice whilst in America as the scent reminded me of L'Oreal Elvive Nourish & Shimmer Highlights Shampoo. It left my body feeling moisturised for hours and it wasn't left feeling greasy. I finished up two foot creams from

Avon; Pomegranate Chocolate and Original

which both left my feet feeling really soft. I finally finished up the

Neutrogena 2-in-1 Wash & Mask

which I really enjoyed using as it left my skin feeling squeaky clean. I finished off my

Shiseido White Lucent Brightening Cleansing Foam

Sample which I started to notice a difference in my skin towards the end of it so I may consider purchasing the full size in the near future. I'm on a mission to make my teeth whiter so I found the

Colgate MaxWhite One Active

to be a good starting point as it slowly made my teeth slightly whiter whilst leaving my mouth minty fresh. One product that I was glad to see gone was the

Crabtree & Evelyn Aloe Vera Shower & Bath Gel

which to be frank, I just used to create bubbles as I didn't enjoy the scent of this when using it as a shower gel. Two disappointing body scrubs that I've used up are the

Spa Natures Essence Body Scrub

and

Baylis & Harding Me To You Body Scrub

which both did nothing in the terms of exfoliating my arms. I was sad to see my

Soap & Glory The Righteous Butter

go as it was the perfect body butter as it sunk into the skin quickly and left my skin feeling moisturised for literally hours as well as leaving it smelling good. I used until it was no longer usable a

The Body Shop Facial Buffer

which will always be a staple in my skincare routine which I cannot be without.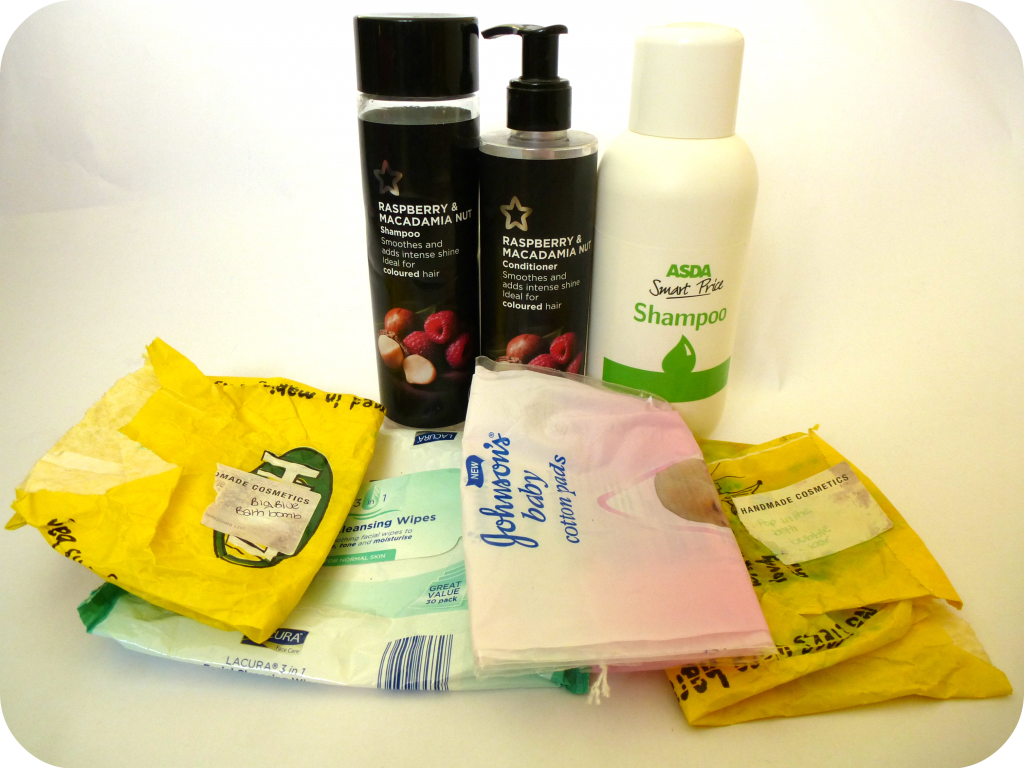 Haircase wise, I finished up both the

Superdrug Raspberry & Macadamia Nut Shampoo & Conditioner

which left my hair feeling clean, soft and smelling good. For the price of these, I was left amazed by how good they were. I also finished up a

Asda Shampoo

which I used to make bubble baths with - it made really big bubbles may I just add. Two lush products that I finished up are the

Big Blue Bath Bomb

and the

Pop In The Bath Bubble Bar

. Both did a good job at turning my average bath into a lush bath. I also finished up some

Lacura 3-in-1 Facial Cleansing Wipes

which do literally everything and lastly, I've finished up a pack of

Johnsons Baby Cotton Pads

. I find that if I cut each pad into half then they last twice as long.
What did you use up throughout January?