I've finally used up the

Mandara Spa The Sensual Ritual Amber Heaven Exfoliating Sugar Scrub

* which feels like its taken forever to use up as I received this almost a year ago at the #NottsBBMeet. This did smell very nice but it just wasn't gritty enough so I felt like I didn't exfoliate my skin properly with every use. I've finished up a bottle of my beloved

Soap & Glory Clean On Me Shower Gel

which I use as a shaving lotion. I find that this works really well as a shaving lotion and leaves my skin feeling soft after use - I will definitely continue to repurchase this! I've used up the

Radox Berry Burst Shower Cream

which smelt far too artificial for my liking but the amount of lather it created definitely made up for it. It wasn't a very "wow" product and I won't be repurchasing. I've used up another bottle of the

Boots Build Up Removal Shampoo

which helps to remove any product built up. I thoroughly enjoy using this and will continue to repurchase. I've also used up the Aussie 3 Minute Miracle Reconstructor which leaves my hair feeling soft and nourished. This is another product that I will continue repurchasing.
I've finished up a tube of the

Neutrogena Visibly Clear Blackhead Eliminating Daily Scrub

which although didn't really help with blackheads, it was still a good manual scrub to use and helped buff away any dead skin. I've used up the last dregs of my beloved

Superdrug Vitamin E Hot Cloth Cleanser

which I used as my morning cleanser. This helped to cleanse my skin as well as calm it down and I will definitely be repurchasing this whenever I'm having a bad skin week as I found that this helped. I've finally finished the

Boots Glycerin & Rosewater Toner

which although I didn't like the scent very much, I liked what it did for my skin as it both toned and moisturised my skin at the same time. I've finished up another bottle of the

Lacura Aqua-Complete Multi Intensive Serum

which has became such a staple in my skincare routine that I always have quite a few stashed away for whenever I run out. This is what I would call a cheaper, more watery based dupe of Hydraluron and is definitely one to check out before you splash out the cash for Hydraluron. I've finished up the

Laidbare Spot The Difference Problem Skin Treatment Cream

which I believe has definitely helped with any blemishes as it helped to target them and reduce any irritation/inflammation.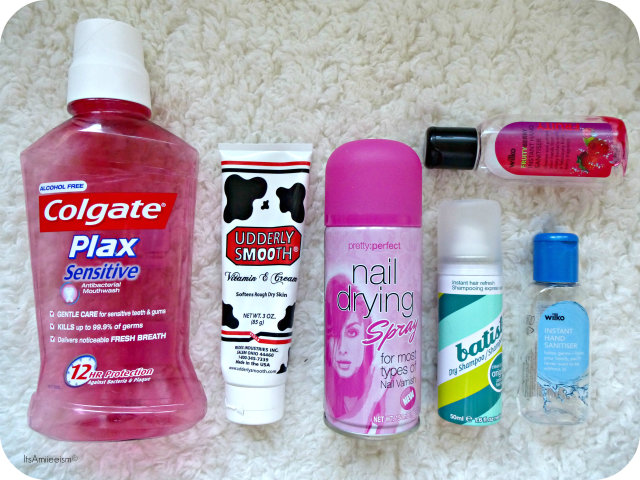 I've used up another bottle of the

Colgate Plax Sensitive Mouthwash

which is the only mouthwash I use. Although I get through it quite quickly, I don't mind paying out for it frequently as it protects my teeth, reduces sensitivity as well as leaves my mouth feeling fresh and clean. I've finished up a tube of Udderly Smooth Vitamin E Cream which I used mainly as a foot cream as it is a very thick consistency. This left my feet feeling very moisturised and I may consider repurchasing this when I'm in the States in May. I've finished up the Pretty Perfect Nail Drying Spray which I tried to use every time I painted my nails. This helped to cut down the drying time and made them dry to the touch within minutes of spraying. I've used up a mini of the Batiste Dry Shampoo in Original which I kept at Liams' for days when my hair felt a little limp and lifeless and this definitely did the trick. I've used up two bottles of

Wilko Instant Hand Sanitizers

which I have stashed almost everywhere. These are cheap as chips and do the job at sanitising my hands.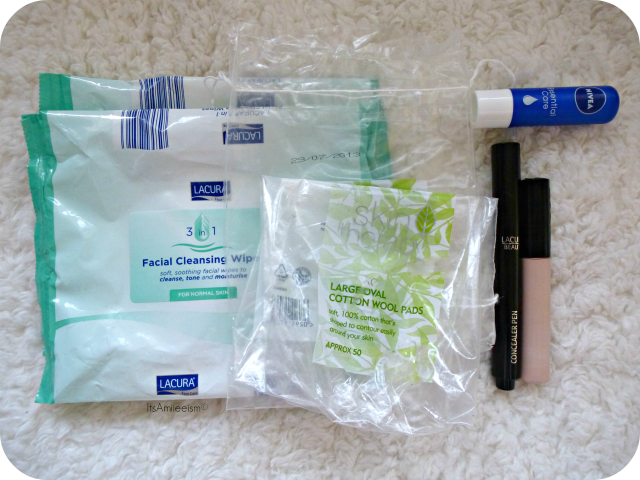 I've used up two packets of Lacura 3 in 1 Facial Cleansing Wipes which appear in every empties post which I use to remove foundation from my hands or to clean my vanity. These do the trick and are such a staple product that I will continue to repurchase. Another staple product that I've used up are two

Skin Therapy Large Oval Cotton Wool Pads

packs which are my favourite cotton wool pads to date. As they're cheap as chips and quite large, I find that I do go through them at a alarming rate but I only need to stock up on them every few months as I have so many stashed away. I've used up a

Lacura Concealer Pen

which I feel I didn't get to use as much as I would have liked to. The times when I did use it, I used it primarily under my eyes and to help conceal any blemishes which it did an okay job at. I've used up another concealer in the form of Collection Lasting Perfection Concealer which every blogger and their dog has used. It does a really good job at concealing any blemishes and I may repurchase this although I have found what I think is an even better concealer. The last item I've finished is the Nivea Essential Care Lipbalm which has been the only lipbalm I've used. It leaves my lips feeling really soft and moisturised and is the perfect base for applying lipstick over.