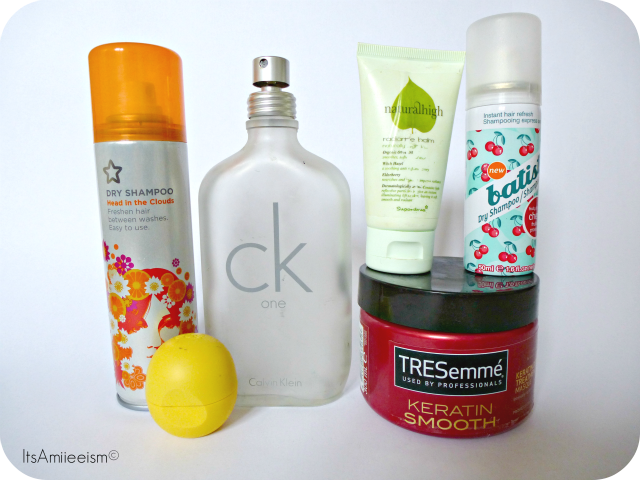 I don't use dry shampoo very often so it's taken me forever to use the Superdrug Dry Shampoo in Head In The Clouds. The scent was pleasant and it did the trick. However, I don't think I would rush out and repurchase this straight away as I already have a few of these and I just dont use it enough. I'm sad to see that I've used up the

eos Lip Balm in Lemon Drop

as this truly is one of my favourite lip balms, ever! It kept my lips moisturised whilst providing SPF15 - what more could you want from a lip balm? Until May 2014 eos! ;) My next empty is CK One which I've had for the longest time ever! I'm making a conscious effort to use up all my perfumes before I purchase any more. The scent was nice and it lingered around however I don't think I would repurchase. I've been using up the

Superdrug Natural High Radiance Balm

as something to perk up my skin for those days where I'm not wearing makeup. It smelt good and it definitely did the trick at making my skin more radiant. I've used up another dry shampoo in the form of Batiste Cherry. I kept this one round Liams' and I only used this for when I had two/three day hair. It smelt nice, did the trick but just like with the other dry shampoo, I wouldn't rush out and repurchase. I've finally finished up the Tresemme Keratin Smooth Deep Treatment Masque which I declared my love for a lot last year however a lot has changed! I didn't feel that it did much for my hair so I mainly used it for when I was washing my extensions.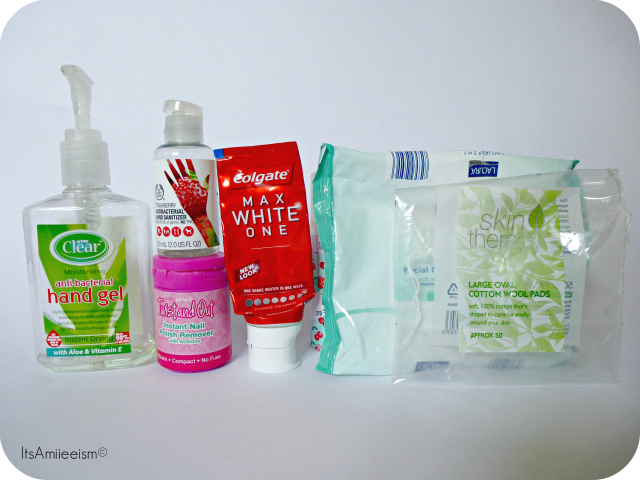 I've become a little OTT with hand gel hence why I've used up two. The Active Clear Anti-Bacterial Hand Gel is one that I've kept on my skin care shelf where it was primarily used after applying my lotions and potions. It smells mainly of alcohol but I like to think it's doing the job well. The other hand gel I've used is The Body Shop Strawberry Antibacterial Hand Sanitzer which I've been keeping on my vanity. It smells of artifcial strawberries which lingers on the skin but it did a good job. I've used up a Pretty Perfect Twist and Out Instant Nail Polish Remover which has featured in many empties so I wont go into much detail apart from the fact that it does the job at removing nail polish quickly and swiftly. I've finished up a tube of Colgate Max White One which I didn't see impressive results. It did however make my teeth clean and it was on special offer. I've used up a packet of Lacura 3-in-1 Cleansing Wipes which for the record, I do not use to take off my makeup! I use it primarily to remove swatches from my hand and to just generally clean things up. Lastly, I've used up a packet of the Skin Therapy Large Oval Cotton Pads which are really good value for money! They're 65p for approx 50 and they do not fall apart like most cheap cotton pads. They're definitely my HG in terms of cotton pads.
What products did you use up throughout July?