I've finally finished this ginamous bottle of Classics Nail Polish Remover. Whilst it might not be the best out there, it's certainly one of cheapest and it does the job just as well. I've finished up a bottle of Johnson's Baby Shampoo in Camomile which I much prefer to the original as it doesn't smell quite as strong of baby shampoo. I use this mainly for my make up brushes and it lifts the makeup right out of them. I've finished up yet another bottle of Johnsons Baby Oil which I only use for shaving my legs as it leaves them feeling silky smooth for longer whilst leaving them moisturised. I've also finished up another

Neutrogena Visibly Clear Gentle Exfoliating Wash

which has been in quite a few Monthly Empties. I like the way that it cleans my face without leaving it feeling tight afterwards. I've had the Superdrug Hand Therapy Intensive Hand Cream for quite a while now and since it's been sat on my vanity, I've found myself using it a lot. It did the job of moisturising my hairs but I wouldn't say that I would rush out to repurchase it.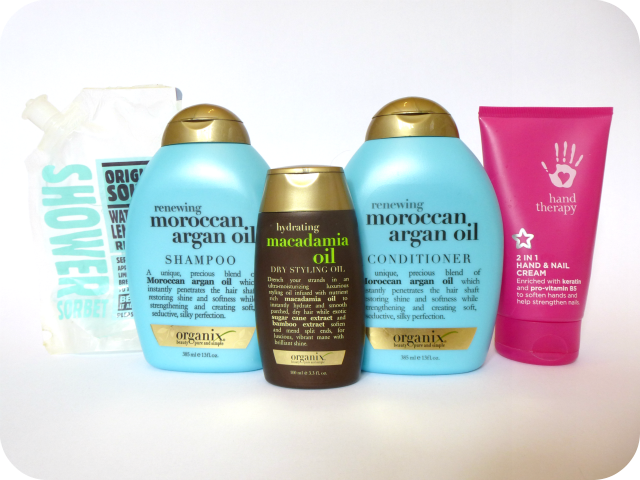 I've finished up the

Organix Moroccan Argan Oil Shampoo and Conditioner

which I have throughly enjoyed using. It left my hair feeling a lot softer and looking a hell of a lot healthier. I would definitely repurchase this! I've finished up another bottle of the

Organix Macadamia Oil

and I believe that I'm now on my third bottle of this as I've already repurchased it!
I love using this on my hair when it's damp as it leaves my ends looking healthier and helps mend my split ends too. I've finished up a Original Source Watermint & Lemongrass Shower Sorbet which is actually my Dads. Both him and my brother have a habit of using up half a bottle of shower gel and then starting on a new one which means that at one point they had SIX half used shower gels between them! What I liked about the Original Source Shower Sorbet is that it lathered up nicely and did the job. I've finished up another hand cream in the form of

Superdrug Hand Therapy 2 in 1 Hand & Nail Cream

which is definitely my favourite hand cream! It sinks into the skin quickly without leaving any residue and leaves the skin moisturised for hours. I'm already on a travel sized tube of this.
I've finally finished up the last of my stocks of Lynx Attract For Her which I must admit that they're great value for money. It did the job but I wouldn't say I would rush out and repurchase as the smell of this started to annoy me a little.
I've finished up C'est Le Fete by Christian Lacroix which featured in my April Favourites 2013. Despite having so little left in the bottle, I really enjoyed using it as it smelt really fresh and floral. I would definitely repurchase but I'm trying to use up the majority of my perfumes at the moment. I've finished up a Salon System Individual Lashes in Ultra Black Medium which are my go to lashes. I've talked about these so much that it must be driving you crazy reading about them in nearly every monthly empties post. I've used up a Lacura Beauty Concealer Pen which is a dupe for the infamous YSL Touche Eclat. This does the job well at concealing my dark circles and any blemishes I have. I will be repurchasing this at some point soon! I haven't used up the Rimmel Clear Cmplexion Concealer as I've had for so long now that I feel that it's definitely become unusable. From what I can remember, it was a okay concealer for blemishes.
What products have you used up throughout May?