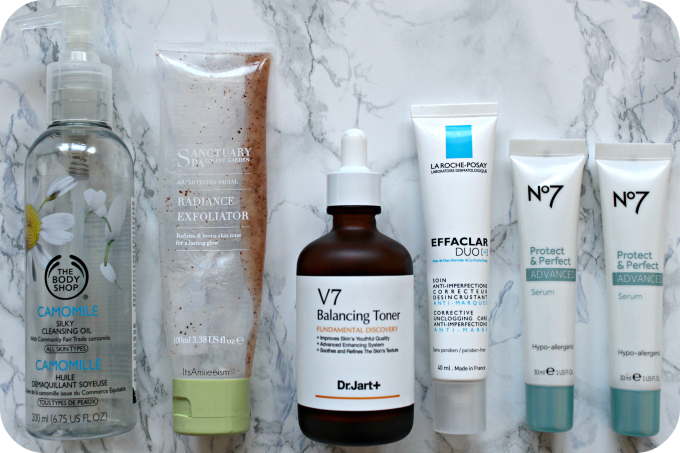 You may want to grab yourself a cup of tea and get comfortable as this will be a very long post! First up, I've used up

The Body Shop Camomile Silky Cleansing Oil

which I found removed my makeup rather well including waterproof mascara. I've finished up a Sanctuary Radiance Exfoliator which for the record has crushed up walnut not plastic beads in it. This helps remove all dead skin cells and leaves the skin soft to the touch without drying it out. I've used up the

Dr Jart+ V7 Balancing Toner

which I didn't notice a huge difference whilst using and I found it rather annoying to use as you had to use the dropper a few times to get a decent amount onto a cotton wool pad. I've finished up a La Roche Posay Effaclar Duo+ which I use every morning without fail and helps keep any pesky blemishes at bay whilst helping to prevent any new ones from appearing. I've used up two No7 Protect & Perfect Advanced Serums which I use both morning and night before moisturising to help

prevent the

first signs of ageing. I think I'll have to invest in the bigger size of this from now on judging by the fact I've used up two tubes in one month!
I've finished up a

Botanics Ultra Calm Skin Relief Serum

which I used every so often when my skin was looking a little drier than normal to help double up on the moisturisation. I've used up a Lacura Aqua Complete Multi Intensive Serum which is pretty much identical to Hydraluron but at just a fraction of the price which sadly they've now discontinued altogether which is a shame as I thoroughly enjoyed using it. Speaking of Hydraluron, I've used up two tubes of it which just goes to show that I've been a little heavy handed with my products this month. This acts like a magnet with your moisturiser to help hydrate the skin further down and I will forever continue to repurchase and reuse it! I've finished up a

Yes To Grapefruit Dark Circle Correcting Eye Cream

which I felt didn't necessarily help correct my dark circles but it certainly did help keep my under eye area hydrated. I've used up the No7 Youthful Eye Serum which I use before any eye cream to help keep my under eyes hydrated which just like with Hydraluron, I will continue to repurchase and reuse. I've finished up a

L'Oreal Youthcode Texture Perfector Moisturiser

which didn't particularly wow me and just felt any other average moisturiser. I've used up two EOS Lip Balms in Watermelon and Summer Fruits both of which I loved just as much as the other. I seem to have these dotted all over the place hence why I've used up two. I'm so glad that I actually have a jar filled of these as I stocked up when I went to America as there's no way I'm paying £5+

for a lip balm!
I've used up a L'Oreal Lumi Magique Pure Light Primer which is one of my holy grail products! This just helps to create the perfect base ready for foundation whilst making the skin appear incredibly radiant. I've finally finished up the Neutrogena Nourishing Long Wear Makeup which I mixed with other foundations to create a custom base. The colour matched me well and I will definitely buy it again when I'm in America. I've used up a

No7 Instant Illusions Airbrush Away Primer

which I use before the L'Oreal primer purely to airbrush away any fine lines or wrinkles as it just helps to make everything appear smooth. I've finished up another MAC Eyebrow Pencil in Lingering which matches my brows so well and will continue to repurchase unless I find something else cheaper. I haven't used up the

Rimmel Glitter Bomb T

op Coat

in D

isco D

iva

as it's actually dried up however this is such a good nail colour for an accent nail as it's rose gold which packs a lot of glitter! I've also used a pair of Ardell Demi Wispies

Fake Eyelashes

which I wore for Valentines Weekend and it just made my eyes pop so I can definitely see myself

buying these again.
I've finished a

Tresemme Heat Defence

which if I'm honest, I didn't get on with well as it worked brilliantly to protect freshly washed hair but on second day hair, it just made my hair feel and look greasy which is not ideal. I've used up a huge bottle of Dr Bronner's Magic Soap in Citrus which I used to wash all my makeup brushes and sponges weekly. I absolutely love this stuff and I will forever continue to repurchase it in either this scent or Almond. I've finished up the

Moroccan Oil Treatment

which I used every time I've washed my hair. I normally used around five to six pumps worth which I know is a lot however my hair definitely needed it! I will definitely repurchase this once I've used up my current hair oils. I've used up a

Imperial Leather Apple & Pear Shower Gel

which smells incredible fruity and lathers up nicely and will definitely use it again which is just as well, as I have a few more bottles of this in my stash.
I've used up a

The Body Shop Almond Body Butter

which smelt utterly divine and helped keep my body moisturised. If money was no object, I would buy hundreds of these in a heart beat but for the time being, I'll stick with my trust Soap & Glory ones. I've finished up a

Boots Keep It Sweet Strawberry Jam Body Scrub

which smells of very artificial strawberries however helps keep my pins exfoliated and is a fraction of the price of the Soap & Glory scrubs too. I've used a

Colgate Sensitive Pro Relief Toothpaste

which is just like any other normal sensitive toothpaste just not as pricey as most. Once I've used up my stash of these, I'm definitely going to try out a few different ones. I've finished up two packs of the

Wilko Maxi Oval Cotton Pads

which will forever feature in thesse empties. Lastly, I've used up three packs of the

No7 Quick Thinking Wipes

which I use for everything but removing makeup from my face. I've also used up quite a few of Lush Bath Bombs including Star Dust, Butterbear, Cinders, Ickle Baby Bot, Yog Nog and So White as well as one Lush Bubble Bar which was Bar Humbug.
If you've made it this far, I congratulate you as I will admit this is a rather lengthy post due to the amount of products I've used up this past month!