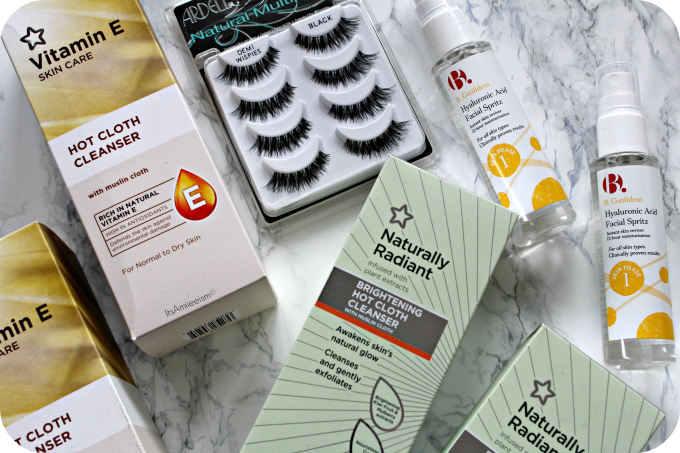 Superdrug is one of those stores that I rarely go into unless it's something that I cannot get in Boots. I'm forever receiving their emails but their offers never seem to entice me until very recently when there were a few offers that I simply couldn't resist which is down to Superdrug celebrating their 5 Years of their Health & Beauty Card.
Long term readers will know that the Superdrug Vitamin E Hot Cloth Cleanser is one of the most talked about cleansers on my blog so it seemed only right to pick up two more especially when they were on offer. It's rich in natural Vitamin E and high in antioxidants and helps to defend skin against environmental damage. It's also one of the most creamiest cleansers I've come across that truly helps with dry skin. In addition to picking up those, I couldn't resist picking up two of the Naturally Radiant Brightening Hot Cloth Cleanser. This is essentially a more radiant version of the Vitamin E except with a different scent altogether. It contains many brightening ingredients to help awaken your skins natural glow whilst being very nourishing on the skin too.
I've recently been getting into wearing fake lashes on a daily basis as I just love how they make my eyes look especially with a smokey eye. I'm very late on the band wagon to using the Ardell Demi Wispies but I've definitely made up for lost time as I picked up a multi pack which contains four pairs that can be reused multiple times. I actually got a killer discount on this which worked out to be the same price as two individual pairs by themselves. Luckily, I've got quite a few teeny tiny Duo Lash Glue samples as this multi pack doesn't come with any glue.
The main reason why I ordered from Superdrug is after seeing that they've recently brought out a Hyaluronic Acid Facial Spritz which everyone and their cat knows that Hyaluronic Acid can hold up to a thousand times its weight in water to help keep skin moisturised for longer. Considering that it was on a buy one get one free offer, it seemed rude to not pick up two. I cannot wait to start spritzing this when I do my skincare and who knows, it might even be a dupe for Hydraluron!