Just like with many months before, I seem to go through quite a lot of products and this month is no exception. I don't know quite how I get through so many products but it just seems that every month, I run out of a whole lotta products.
One product that I was sad to use up is the

Boots Botanic Pure Rosewater Toner

. It's very lightweight and doesn't leave my skin stripped of its essential oils nor left feeling tight whilst leaving it soft to the touch. Another product that I was sad to see go is the

Origins Pure Cream

which is one Origins product that doesn't get raved about enough. I found it's funky scent to be a little offputting however it left my skin feeling like it had a really good cleanse so much so that I ignored its weird scent altogether. One product that seems to crop up in my monthly empties almost is the Neutrogena Visibly Clear Gentle Exfoliating Wash which is gentle enough to be used both morning and night to remove any dead skin cells and helps to keep any spots at bay. A product that slightly disappointed me this month is the

Superdrug Naturally Radiant Hot Cloth Cleanser

which I'm glad to have used up. It didn't do much in the terms of leaving my skin radiant however it did the job of cleansing my skin. I've finally managed to use up

Re-Gen Cream

which I've reviewed here. This bad boy is amazing at getting rid of any scars that are left from spots whilst also leaving the skin moisturised. I will definitely be repurchasing this in the near future! Another moisturiser that I've used up is the

Superdrug Vitamin E Nourishing Night Cream

which I actually used both morning and night. It smells amazing and it left my skin feeling really moisturised - so much so that I already have a backup of this waiting for me to use.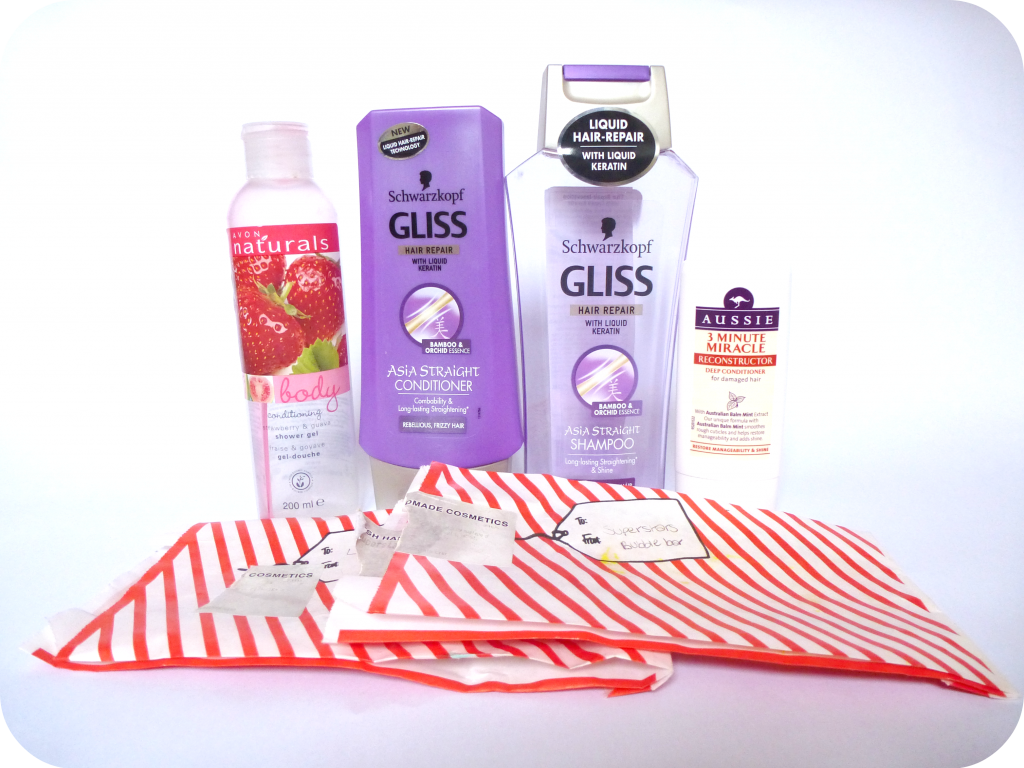 Remember my review here of the Schwarzkopf Gliss Asia Straight Shampoo and Condtioner? Well I've finally finished the two up! They did the trick at leaving my hair straight and I also noticed how much healthier my hair looked whilst using them. Another hair product that I've used up is a travel sized version of Aussie 3 Minute Miracle which Sophia from Tattooed Tealady got me for Christmas. I thoroughly enjoyed using this and I managed to get atleast five uses out of it! This has reignited my love for 3 Minute Miracle and I cannot wait to go out and buy a bottle or two of the full sized version. I've used up my

Avon Naturals Strawberry Shower Gel

which has been lingering around a little too long for my liking. Whilst it smelt nice, I just don't think it really did much in the terms of scrubbing my arms with it. I've used up two Lush products in the form of Superstar Bubble Bar and Lil Lush Pud which I've had in my stocks since 2011! They both made my bath really lush and I may consider getting them again soon.
I've finally managed to finish my The Body Shop Tea Tree Pore Minimiser which is definitely my holy grail primer! It makes my makeup last longer whilst also fighting spots which just means that all round is a very good product to have. I've also reviewed it here. Another holy grail product of mine is the Salon System Individual Lashes Ultra which crops up in every monthly empties. I don't think I need to talk too much about them apart from the fact that I adore wearing them everyday! I'm on a mission to use up my lip balms so I'm glad to have used up my

Lacura Lip balm

which definitely left my lips feeling moisturised throughout those cold February days. A product that I didn't technically finish is the

Superdrug 3-in-1 Base Coat, Ridge Filler & Growth Enhancer

as I accidently let it dry out by mistake. I did enjoy using it however in it's pre-dry days. I only wear mascara on my bottom lashes and the Maybelline Lash Stiletto did the job well. I really enjoyed using it and I may consider repurchasing in the future.
Yet another monthly occurance are the

Lacura 3-in-1 Facial Cleansing Wipes

which I tend to use more wiping off foundation on my hands rather than on my face as I'm trying to stop using face wipes on my face. They do the job none the less and I will continue repurchasing these again and again! I've finally finished up my THIRD bottle of Lynx Attract for Her which definitely left my pits smelling fresh and dry. I'm already making my way through my fourth and last bottle which just goes to show as to how long lasting they are (I bought four in January 2012 when they were first released for £10 total). Lastly, I've used up Kate Moss Kate Body Lotion which I quite liked the smell of. It may not have been very moisturising but the scent lingered for hours, so much so that I'm considering in purchasing a bottle of the perfume.
Well that's my February Empties, what products did you use up during February?