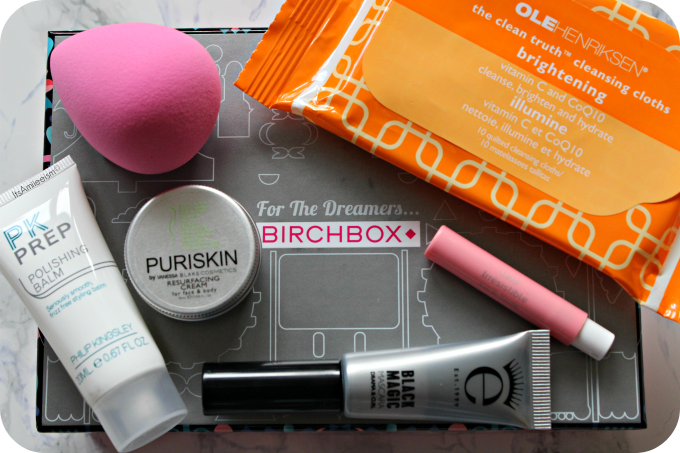 Birchbox are definitely one of the better beauty box subscriptions out there as they routinely offer a good variety of products within each monthly box and they always have a theme for each month too! This month, Birchbox have been inspired by fantastic dreams so they've created a unique box design that you have to scratch away at the coating in order to reveal. And if you're ucky enough to have an extra special message on the top of the box then you've won a dream holiday which sadly I didn't win this time around ;) Let's delve into what Birchbox have delivered this month!
The first product that I spotted is the Spectrum Unicorn Tears Wonder Sponge (£4.99) which you had the option of choosing which colour you preferred - purple or pink. I personally wasn't fussed which colour I received as it really makes no difference. This is very much like the BeautyBlender in the sense that you have to dampen the sponge before using in order to create a flawless base. I still haven't got round to using any of my BeautyBlenders as I'm still obsessed with the Real Techniques Miracle Complexion Sponge but as soon as I throw out my current sponge, I'll definitely be trying the Spectrum one out.
Next up is one product that I was most excited about seeing which is the Ole Henriksen The Clean Truth Cleansing Cloths (£12) which are one of the most hyped up, expensive wipes I've come across! I personally don't use makeup wipes for removing makeup and instead use them for cleaning off foundation and the very occasional freshen up. I would personally never use these particular ones for removing makeup but instead I'll use them on days when I'm not at work just to freshen up my face.
I haven't really been wearing a full face of makeup for just over a month now so I'm wondering if the addition of the Eyeko Black Magic Mascara (£18) will make me start wearing it again. I remember that this was the mascara to use when I first started blogging as it helps to truly lift and curl your lashes whilst being completely smudge proof. I like how it's not like traditional mascaras and is instead in a squeezy tube!
The next addition in this months box is the Philip Kingsley PK Prep Polishing Balm (£18.50) that helps to tame frizzy hair and transform it so that it looks sleek and glossy whilst always delivering a shot of ProVitamin B5 and Vitamin A to nourish your hair deep down. I've never tried a polishing balm before so I've got high hopes for this as I do suffer with frizzy hair especially the day after I've washed my hair as it's so soft and frizzy!
Whenever I get a blemish, it feels like it takes forever to go away and when it does it leaves a red scar that also takes forever to disappear so I'm rather excited to see a sample of Puriskin Resurfacing Cream (£13.99) in this months box. This is one of those does it all wonder products that helps battle dry skin, blemishes, scarring, stretch marks etc and it helps to soothe and calm the area. I'm truly hoping that helps with a few blemish scars that I have which no amount of rosehip oil seems to be helping with!
The last addition to the box is a sample of the Givenchy Live Irresistible Fragrance (£44+) which smells really fruity and floral and is perfect for the summer months! As much as fragrance samples annoy me, I truly am grateful for them as they're handy to have in my bag for when I want to quickly spritz myself on a night out.