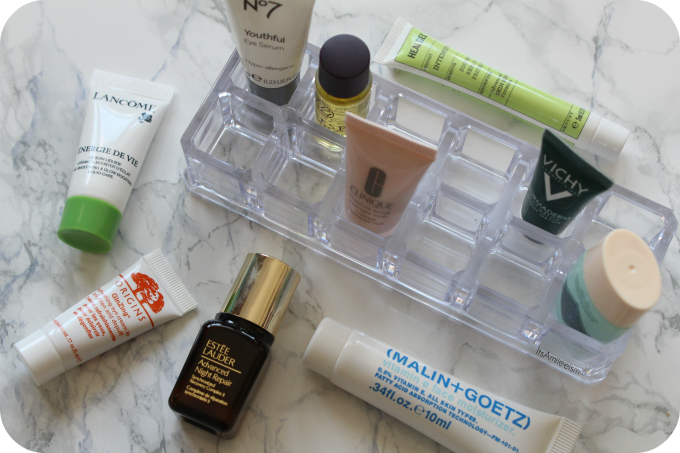 Have you ever flicked through a beauty magazine and come across those one use wonder satchets of a shampoo and conditoner and just thrown it into the bin as you believe you'll never use them? What about

when you've bought

something from a beauty counter and they've thrown in a few samples that the sales assistant thought you would like to try? Well what if I was to tell you that those said samples could be the start of a great relationship as well as a brilliant way of trying lots of different products without having to splash

out for them.
All my friends and family know that I love a good sample or three and I come home nearly every day with a few samples that the makeup girls think I would like and most of the time, they're right! Long term readers will have noticed that I have a Samples I've Used Up Post every single month

just simply sharing what samples I've used up during that particular month.
I keep all my samples in two large jars and I routinely go through them and seperate them into what I want to use right now and what I want to use later on (in other terms, it goes straight back into the jar!) Now depending on what kind of sample it is whether it be makeup, skincare etc it'll go into a particular place until I'm ready to use it. If it is a rich moisturiser and my skin is feeling a little dry, it will find it's way into a acrylic lipstick holder on my skincare shelf ready for being used whereas if it's a micellar water and I already have a full size open, it'll go straight into a sample box in my skincare drawer. It may sound a little over the top but it

's a little system that I've had in place and it truly works for me.

As mentioned, I have a sample box

my skincare drawer

which is also the same

case for my

haircare drawer. In

these half boxes

is where I store all the samples that I want to use right now but not at that particular moment. I routinely go through it and see which samples I want to use and if there are any that I

don't want to use then they go straight back into my sample jars for next time.
By keeping the samples that I want to use right now in plain sight, this means that I'm using them up and going through them a lot quicker than if they were out of sight and therefore out of mind. Regardless of the fact if I have my full size ones open, if my skin is feeling dehydrated then I will use a sample of a rich moisturiser rather than using my full size light moistuiser. By sticking to this routine, I've come across products that I would have never tried before without having tried a sample of it before and I've fallen in love with some products that I've had to go out and buy the full size of it! This hasn't always been the case as there have been some occasions where I've wondered why I've used X product as it's

made me break out etc.
Do you use s

amples of products?