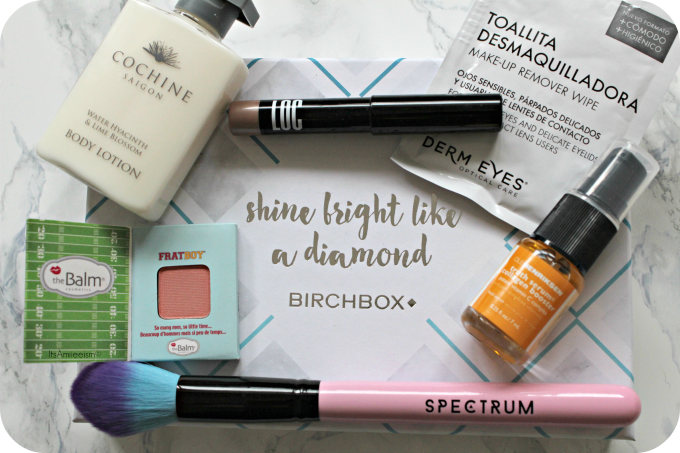 I've been a little laid back recently when it comes to blogging as some of you may have noticed. I'm not going to make up any excuses as to why but just simply life has been getting a little hectic so without further ado, I'm back with a review of this month's birchbox!
Birchbox have definitely been upping their game recently when it comes to their monthly subscription boxes and unlike other beauty boxes that have been taking the Valentines Day approcach, Birchbox have changed up the ballgame and continued with their powerful messages with this months box being no exception. This month's theme is Shine Bright Like A Diamond which is filled with products to help you look and feel bright like a diamond also. So let's delve in and see what's inside!
The first product in the box is from their inhouse brand LOC; One And Done Shadow Stick (£8) that all subscribers got to choose which shade they preferred. I went ahead and chose Champagne Problems which as the name suggests, is a beautiful champagne colour that just looks effortless on the lids. This is actually a full size product which is rather tiny but I'll making sure to give it a lot of loving!
Next up a sample of the Ole Henriksen Truth Serum Collagen Booster (£47) that I've been wanting to try for the longest time ever after hearing many people rave about it! It contains a high powered vitamin C complex that helps to smooth out fine lines and wrinkles to protect the skin from further damage. It's loaded with antioxidants and moisture binding ingredients that help to keep the skin nourished and hydrated. I'm looking forward to introducing this into my skincare routine although I'm a little worried that if my skin likes it, I'll have to buy the full size which is rather pricey!
One of the most exciting additions to the box is a full size Spectrum Tapered Powder Brush (£7.99) that I've been seeing a lot recently on Instagram! The brush is certainly eye catching with a pink handle and blue and purple bristles to match which are ever so soft! I bet this would work wonders with setting concealer under the eyes or even applying blusher, not that I wear any that is!
I tend to stick to my usual body butters in a tub so I doubt the Cochine Water Hyacinth & Lime Blossom Hand & Body Lotion (£19) will be getting much use from me sadly. It's packaged with shea butter and aloe vera to soothe and hydrate the skin with hints of zestly lime blossom and woodsy water hyacinth to scent the skin. Although with that being said, I could just add it to my stash of hand creams to use.
It appears that I have an abundance of theBalm Frat Boy Blush/Shadow (£15.50) samples from recent beauty boxes so this addition will be getting passed onto a friend for sure! It's a beautiful pale pink with a subtle hint of shimmer that would look beautiful on pale complexions for a hint of colour.
The last addition to this months box is a Derm Eyes Make-Up Remover Wipe (£9.50) which I'll be keeping in my handbag for an emergency as I don't tend to remove my makeup with a wipe as I opt for micellar waters or cleansing oils if I'm honest. These are hypoallergenic cleansing wipes that are ideal for sensitive eyes as they've been created with a super soft fabric to both cleanse and hydrate the eye area without irritation.
This box sure contains a wide variety of items and have definitely got me excited for the March edition!