I think it's safe to say that November was a month of finishing a fair few of my favourite products *sadface*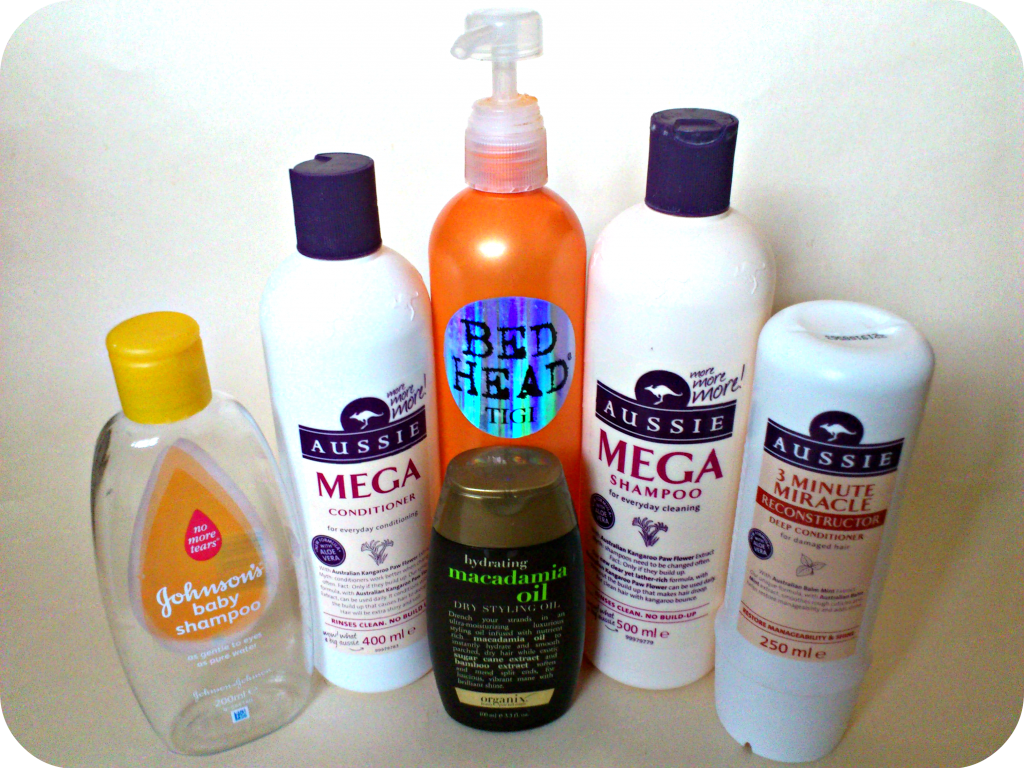 Remember my trip to America? Well my Grandma had bought me Bed Head Tigi Shampoo and the matching conditioner and I'm so glad that I've now finished the shampoo! At first, I did feel like it was helping my hair and it made very soft but towards the end, it just didn't have the same effect like it did. I may consider repurchasing it in the near future but for the time being, I'm happy with what I'm currently using. I finally finished my trio of Aussie products; Aussie Mega Shampoo and Aussie Mega Conditioner have seriously changed the way I wash my hair - they helped my hair feel squeeky clean and left no build up. I enjoyed using this duo together and I can't wait to get my hands on these bad boys again! When I teamed those two products up with Aussie 3 Minute Miracle Reconstructor, my hair couldn't thank me enough. This helped keep my hair from feeling not as damaged and I would definitely repurchase this. The Organix Macadamia Oil is quite literally a god send (I've reviewed this bad boy here) I used this everytime after I've washed my hair and it made it feel so soft and just full of life again. I'm so glad that I have a backup of this! I guess I'm not alone when I say that I use Johnsons Baby Shampoo to wash my makeup brushes with. It leaves them clean, soft and with no build up at all. I will continue to repurchase this time and time again.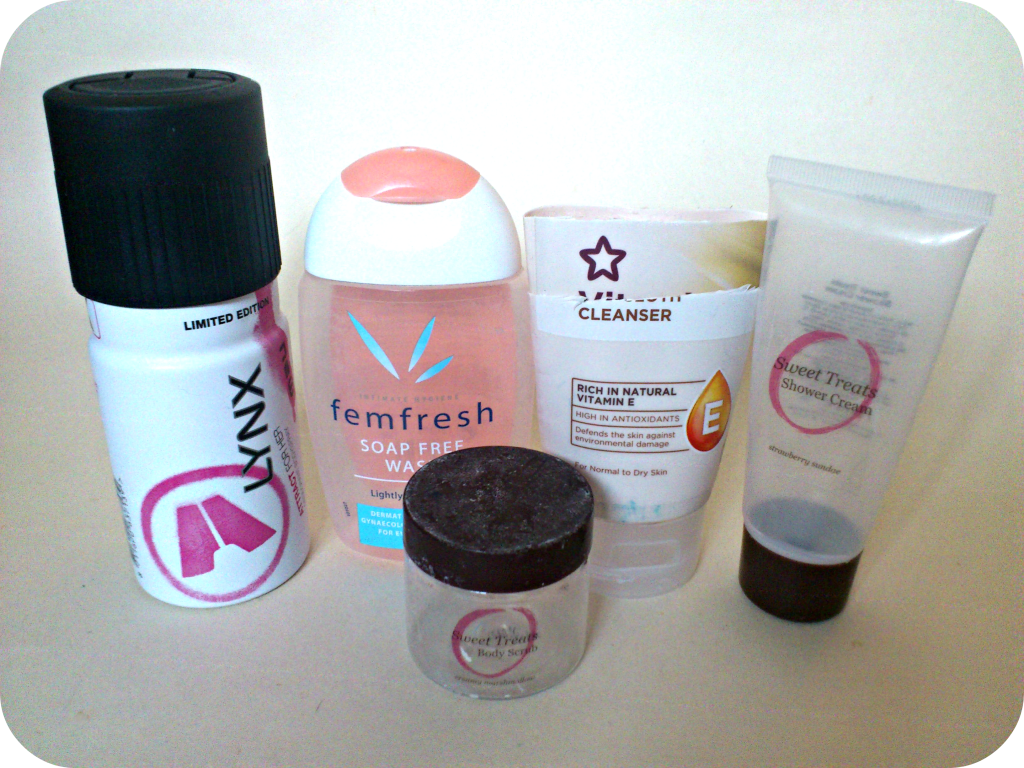 My deodrant of choice since January has been Lynx for Her, this is my second can and it lasts so long even with everyday use! The scent is alright and it does do the job but I can't see myself repurchasing this as I'm getting quite bored of it. I don't think there is any need to explain as to why I've used up Femfresh - it does the job and that's all you need to know. A few months ago, everybody was getting caught up in the hype of the Superdrug Hot Cloth Cleanser and I'm so glad that I bought into it! The idea is that you massage this onto your skin and then with the muslin cloth, you get it soaked in hot water, wring it out and put it on your face. It leaves your skin feeling so soft and moisturised whilst knowing that it's leaving your skin cleansed. The scent of this is absolutely divine and I know that I'm getting some more of this for Christmas. I would most definitely repurchase this time and time again. I've been trying to use up as many bath products as possible, so I'm glad that I've finally used up the Sweet Treats Shower Cream in Strawberry Sundae. It didn't do much for my skin but it did leave my arms smelling good and moisturised. I also used up the Sweet Treats Body Scrub in Creamy Marshmallow. Let me just say that the scent of this was heavenly! I really enjoyed using this although I wouldn't say that it was much of a body scrub, more like a shower gel which smelt really good.
There are two products that will always appear in my every monthly empties and those are the Salon System Individual Lashes Ultra. These are my eyelashes of choice and I can't see myself ever being without these in my life. They're natural looking so they don't look too overdone but they're just right to look like you've made an effort. I will always repurchase these! Another product are the Lacura 3 in 1 Facial Cleansing Wipes, I use these for a wide variety of things and I always have loads of these in backup. They're quick, cheap and easy to use - what more could you ask for? I've finally finished up a foundation! The Collection 2000 Light Diffusing Foundation has been in my drawers for ages and it's taken forver and a day to use up. This colour was definitely not suited for my skin colour (as I stole it from my mum) but I definitely liked the light/medium coverage that it gave. I wouldn't repurchase this as I have far too many foundations to use up at the moment. The Biore Pore Perfect Face Strip and Nose Strips have been something that I've been meaning to use up. I don't feel that they did anything for my skin in removing clogged up pores and blackheads but they're a beauty treatment that we all have to endure at some point. Lastly, I've used up some Allura Cotton Pads. I have packs and packs of these in my room and there are only so many cotton pads you can use in a day! I find that the texture of these vary from pack to pack - some can just fall apart with some slight moisture whilst others feel like a decent cotton pad. However, they do the job at cleansing/toning/removing makeup so I can't complain.
Phew! 19 products later and they're all finished with! Don't you just love the feeling of using up products? If you've done any November Empties posts, please link them down below as I would love to see what you've used up.