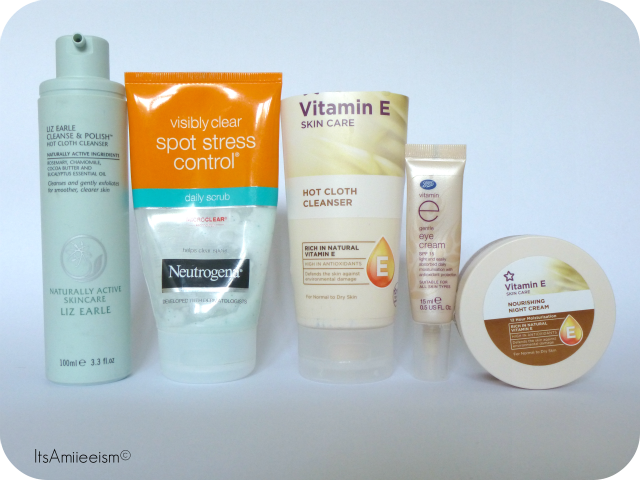 I've finished up the infamous Liz Earle Cleanse + Polish which is definitely my all time favourite cleanser. It smells nice and it leaves my skin feeling really good. I couldn't imagine my skin care routine with out it at the moment! I've finished up the

Neutrogena Visibly Clear Spot Stress Control Daily Scrub

on the recommendation by my close blogging friend

Jessie

. At first I didn't really like it as it made my skin feel like it was being attacked by something menthol but towards the end of it, I really started enjoying it. I will definitely be repurchasing this. I've finished up a different cleanser this time in the form of Superdrug Vitamin E Hot Cloth Cleanser which I enjoyed using every morning. It's very thick and creamy and leaves my skin feeling ready for the day. I've finally finished up the

Boots Vitamin E Eye Cream

which I've had since October last year. I use this both morning and night to help combat my dark circles. Whilst it might not be helping to get rid of them as quickly as I want it to, it helps protect my undereye area with the added SPF15 that it contains. You can tell that I love Vitamin E as I've finished up the Superdrug Vitamin E Nourishing Night Cream which I used as a day cream. It wasn't thick and heavy and it absorbed into my skin quickly. I will be repurchasing this some point in the future.
I've finished up two of the Lacura 3-in-1 Facial Cleansing Wipes which I don't use for taking off makeup - I tend to use them for wiping off makeup swatches or just general dirt. I've also finished up some more facial wipes in the form of Good Things Total Wipe Out Cleansing Wipes* which are the most moist wipes I've come across! They smelt pleasant and they did the trick but I doubt I would go out of my way and purchase them. I've used up a

PrettyPerfect Twist and Out Instant Nail Polish Remover

which I've repurchased so many times. It removes my nail varnish quickly and I would say one pot lasts me a couple of months. I've used up a Lush Bath Bomb which was the Satsumo Santa. I know that it's the wrong time of year to use it but I'm wanting to use up all of my Lush products before I purchase some more in September.
What products did you use up during June?