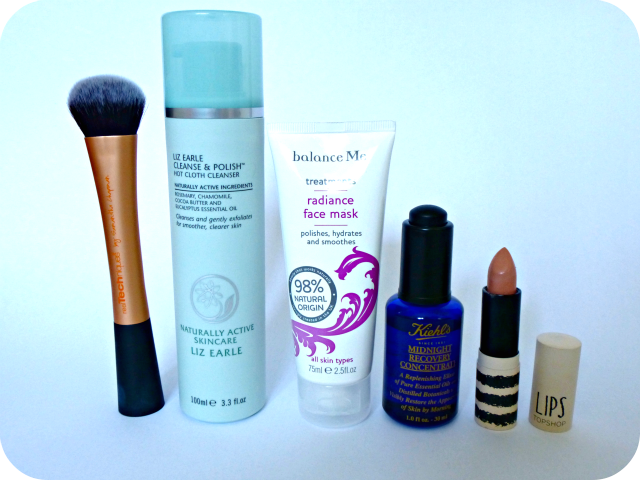 May has been a very hectic month for me and I've found myself wearing make up quite a fair bit. I picked up the Real Techniques Expert Face Brush back in April and it's definitely becoming my favourite brush to apply foundation with. I find that it distributes foundation well and I personally think it's better than the infamous RT Buffing Brush purely because I don't need to spend a minute or so buffing foundation in with this brush. Another make up related product I've been wearing for pretty much the whole of May is the Topshop Lipstick in Nevada. Nevada is described as being a light pink which I find to be the perfect nude (at the moment!) It's very creamy and it stays on the lips for a few hours.
Whilst I've been wearing a lot more make up this month, I've noticed that my skin hasn't been looking it's best. So I've been relying on the Balance Me Radiance Face Mask* to help perk my skin up. I'm still not a fan of the herby scent that it has which is down to containing mainly natural ingredients. Once I've looked past the herby scent, I find that this face mask leaves my skin looking a lot more radiant pre-face mask and it just seems to help with any blemishes that I may have.
I've been really getting into cream cleansers this month and whilst I'm still a fan of the Superdrug Hot Cloth Cleanser, I'm slowly starting to

fall for the Liz Earle Cleanse & Polish*. I can definitely understand the hype of this now! This just leaves my skin feeling a lot cleaner and softer. I honestly look forward to being able to use this each night as it's definitely one of my favourite steps in my night skin care routine! My absolutely favourite product this month which just so happens to also be a favourite step in my night skin care routine is applying the infamous Kiehl's Midnight Recovery Concentrate. Applying two drops of this to my face and then patting it into my skin to work its magic overnight leaves my skin looking plumper and hydrated by morning. I cannot imagine my life without this product to be honest.
What products have you been loving throughout May?