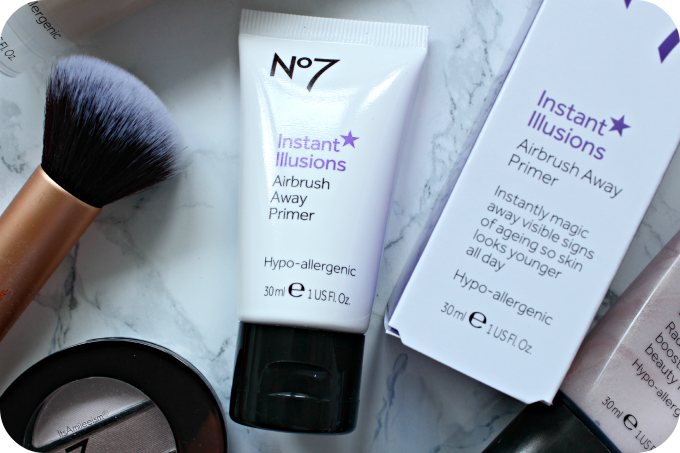 Long terms readers will know that I'm loyal to the

L'Oreal Lumi Magique Pure Light Primer

and I use every single day, without fail. However being a beauty blogger, I'm always looking for new products to try out and make my makeup last that little bit longer so I decided to try out the No7 Instant Illusions Airbrush Away Primer to see if it makes any difference to my makeups longevity.
The No7 Instant Illusions Airbrush Away Primer (£16.50) helps magic away any visible signs of ageing by containing clever light diffusing particles that are designed to instantly make the skin look younger by putting fine lines, uneven skin tone and pores into soft focus. It contains hyaluronic acid moisture locking spheres that help to fill out the skin and thus creating the appearance of smoother looking skin.
Whilst I may not necessarily have visible signs of ageing skin, I do have a few fines around my under eyes and am willing to try absolutely anything to help reduce the appearance of them which is exactly what this primer has been doing. It's been filling out my under eye area to make it appear as if it's completely smooth however this is short lived as the minute you apply any foundation/concealer/powder, they reappear which is a real shame. With that being said, I do however find that it creates the perfect base for my foundation as it just applies a lot better and doesn't settle in any dry patches. I haven't noticed my makeup lasting any longer than usual as I do find that my makeup lasts a very long time what with doing a full shift at work and then perhaps an hour at the gym or so. I'm currently on my third tube of this so I guess it's fast making it's way to becoming one of my holy grail makeup products.
What is your favourite primer?