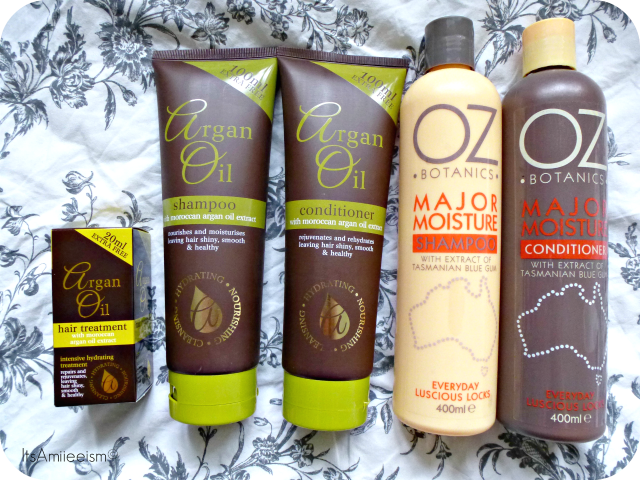 Many people don't like shopping in the cheapy shops such as Poundland and 99p Stores as they believe that most of their stock is out of date which was the case regarding the whole Stila scandal in Poundland at the beginning of the year. However, most of their stock is simply discontinued/old packaging that the brands don't want selling in big named shops so they sell them onto the cheaper shops to then sell on to the public at a much cheaper price. I personally love shopping in cheapy shops as you can find lots of bargains at low prices and I certainly found quite a few of those in my local 99p Store so I thought I would share what I picked up.
Despite having accumulated quite the stash of shampoo and conditioner recently, I couldn't help but pick up a few more. I've noticed Argan Oil products cropping up here and there on quite a few blogs recently so when I saw their shampoo and conditioner, I made a beeline for them and grabbed one of each. They claim to nourish and rehydrate hair whilst leaving it shiny, smooth and healthy which sounds promising. I'm running low on my Organix Macadamia Oil so I thought that I would also pick up the Argan Oil Intensive Hydrating Hair Treatment which despite being only 50ml, you only need a few drops so hopefully it will last for quite a while.
My hair has often been described as being dry to almost very dry so I thought I better pick up something to help change that in the form of Oz Botanics Major Moisture Shampoo and Conditioner. I've never heard of this brand before but it contains extract of tasmanian blue gum which somehow helps to provide some much needed moisture for the hair. This duo claims to help revive the hair and make it softer and shinier after each use.