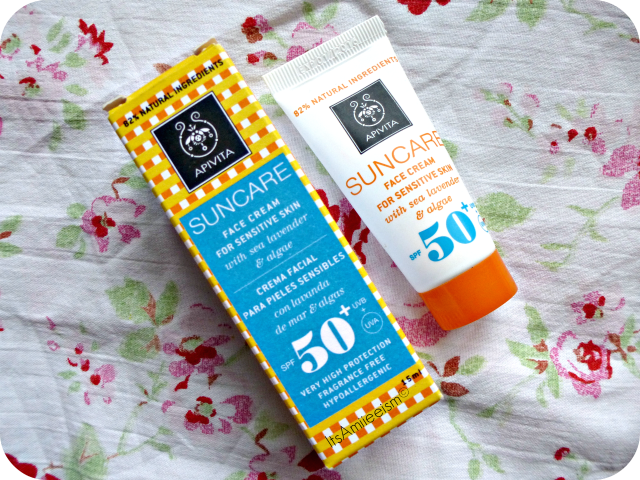 I know that Summer is well and truly over with for another year atleast and that I shouldn't be harping on about sunscreen esecially when it's been raining and feeling very cold recently. However, we shouldn't stop wearing sunscreen just because the season changes as wearing SPF can protect your skin even from the lowest of sun rays during the winter months. I received the Apivita Suncare Face Cream for Sensitive Skin SPF50+ back in April in my

#NottsBBMeet Goodie Bag

and it's taken me a while to make up my mind on this product.
The Apivita Suncare Face Cream for Sensitive Skin SPF50+ has been specially formulated using natural ingredients including sea lavender and algae to be used on the most sensitive of skins to help protect it from the harmful UV rays. It's a light brown cream which feels rather thick when first applied. I find that this takes quite a while to sink into my skin and after a while, it leaves my skin feeling rather sticky and tacky to the touch. I wouldn't say that this is fragrance free at all as I can specifically smell it on my skin although I cannot pinpoint exactly what ingredient/s it is that I'm smelling. I haven't noticed a difference in my skin whilst I've been using this but I'm sure that over time when my skin ages, I will then notice the results. Whilst I haven't noticed any results, I have noticed that it hasn't made my skin break out at all which is a good sign as most facial SPF's can sometimes break out on me.
If you're after a good facial sunscreen and prefer using natural products then this particular product is right up your alley. It's been created with natural and organic filters and the water within the product has been replaced by an infusion of organic green tea. It does not contain alcohol, parabens, silicones, mineral oil, propylene glycol, ethanolamines, pythalates pcm or nm. It is also water resistant which is a bonus too although you would still need to re-apply it after being in the water just to be on the safe side.