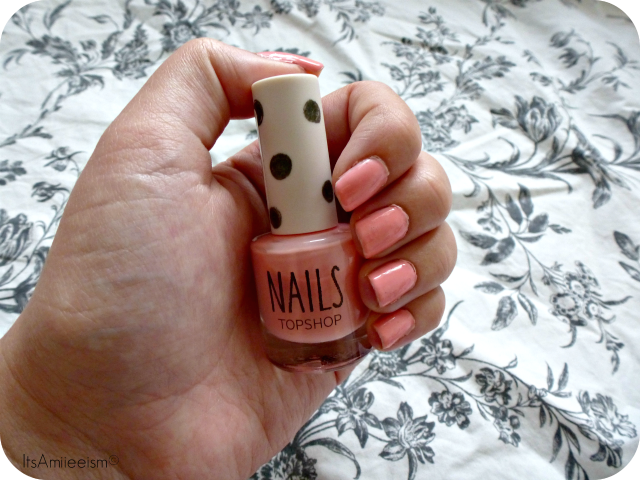 Products used:
Sally Hansen Insta-Grip Fast Dry Base Coat
M
odels Own Snow White
// one-two coats
Topshop Keepin' It Sweet

// two coats
Sally Hansen Insta-Dri Anti-Chip Top Coat
Sally Hansen Mega Shine Extended Wear Top Coat
I know that Summer is now practilly over and Autumn is finally here but I've had Topshop Keepin' It Sweet staring at me for absolutely ages that I thought it was about time I tried it. Sophie from Candy Cane Heart actually bought this for me as a birt

hday present so it's been sitting around unused for a little over three months now.
Keepin' It Sweet is one of those pink shades that just reminds me purely of strawberry milkshake. It's almost a neon pink shade that has faded which makes it look ever so bright on the nails which is down to putting a white nail varnish on before hand. What I like the most about Keepin' It Sweet is that it enhances whatever tan I have left from my holiday to the Isle Of Wight a

couple of weeks ago whilst being rather eye catching at the same time.
I really like the formula of this topshop nail varnish so I'm intrigued to try out more to see if they are exactly the same quality and consistency. I found that with the majority of my nails, I have to use two coats just to make it bright enough and to

hide any white nail varnish that was peeping through.