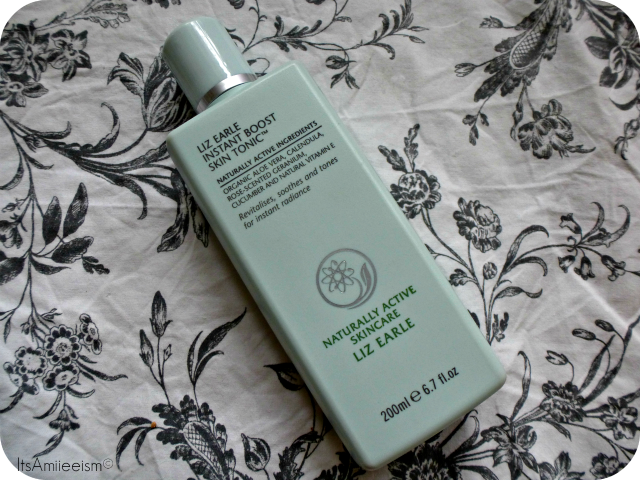 Many people believe that toners are a rather unnecessary step in a beauty regime and would rather skip this and slap on some moisturiser right after cleansing. I however have always been an avid toner user and feel that it is a very necessary step in my beauty regime as I feel that it helps to calm everything down after cleansing. I've been using the Liz Earle Instant Boost Skin Tonic* for almost five months now and as I'm just about to run out of it, I thought that it would be about time that I shared my two cents on it.
The Liz Earle Instant Boost Skin Tonic is one of those products can be used on all skin types due to its rather natural, floral scented ingredients. It contains organic aloe vera to help revitalise and soften the skin and calendula, chamomile, cucumber and naturally sourced Vitamin E to sooth and refresh the skin. It also contains pure essential oils including lavender, rose scented geranium and sweet orange which help to restore and revive your spirits.
I tend to use this at night after I've used the

Liz Earle Cleanse & Polish

as I feel that it does more for my skin than if I were to use it in the morning. I personally find this to be very soothing and relaxing whilst being gentle on the skin. I don't feel like it strips my skin nor leave it feeling tight as it just seems to balance my skin out. Whilst this is very floral scented, it may not be suitable for those who have really sensitive skin despite it saying that it's suitable for all skin types.
The only negative thing I have to say about this is primarily the packaging. I feel like sometimes I pour far too much on and literally drench the cotton pad so I think the next time I repurchase this which should be in the near future, I shall opt for the spritz version instead as I know that it would last that little bit longer. You can purchase the Liz Earle Instant Boost Skin Tonic from a wide variety of stockists including the

Liz Earle website

and

QVC

in 30ml, 50ml and 200ml sizes where the price ranges from £5.50 - £13.50