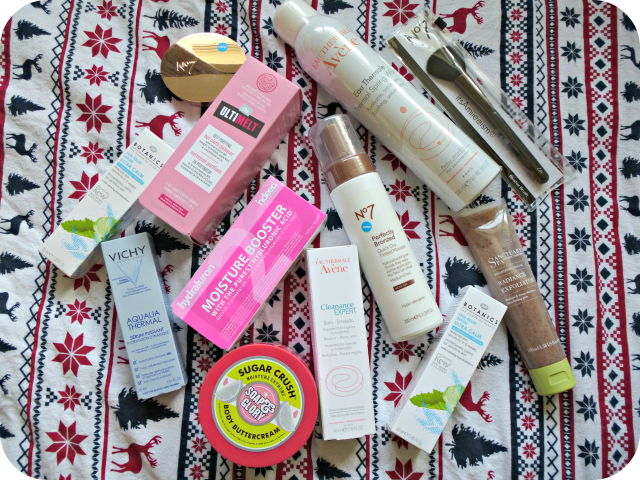 This haul quite literally breaks my main beauty resolution that I set myself at the start of the year and I have no real excuses for it apart from that I needed cheering up, there were too many good deals to resist and I had vouchers that needed using up. This is what I hope will be my last main splurge of the year (well until my 21st birthday at least!)
Currently it's 3 for 2 across all skincare/bodycare so I decided to split up my shop into several seperate transactions purely to get the best deal possible as I don't care what anybody says, the till does not work out the best deal for you! I picked up the Avene Thermal Spring Water Spray mainly for my makeup sponges as I read somewhere that normal water can damage your sponges, the Soap & Glory Sugar Crush Body Buttercream as I wanted the matching body butter to the shower gel and body scrub which meant that I got the Soap & Glory The Ultimelt for free.
My next transaction consisted of Hydraluron which I know I have lots of these in my backup drawer but I had a £5 off voucher and I'm forever going through it! Vichy Aqualia Thermal Serum as I wanted another serum to change up my skincare routine a little which meant that I got the Avene Cleanance Expert for free. My last transaction for skincare meant that I picked up the

Sanctuary Radiance Exfoliator

as I truly miss it in my life as well as two Botanics Ultra Calm Skin Relief Serums as I love the stuff which meant that I got one of them for free.
As the No7 vouchers have just started, I decided to pick up the No7 Shimmer Palette in Caramel which is No7's answer to the Bobbi Brown Shimmer Bricks. I am forever swatching this palette whenever I walk past the No7 counter and as it adds such a radiant glow to the tops of my cheeks, I simply couldn't resist buying it there and then! As I'm currently going through a fake tanning phase which I'm sure won't last for long, I picked up the No7 Perfectly Bronzed Quick Dry Tinted Mousse in Medium/Dark which all my friends say is the bomb so I didn't need much persuading. The last item that I bought is the No7 Blusher Brush which I will be using to apply the No7 Shimmer Palette with as it applys it so beautifully and is the perfect shape.
Have you taken advantage of the 3 for 2 across all skincare or perhaps bought anything from No7 using their infamous vouchers?