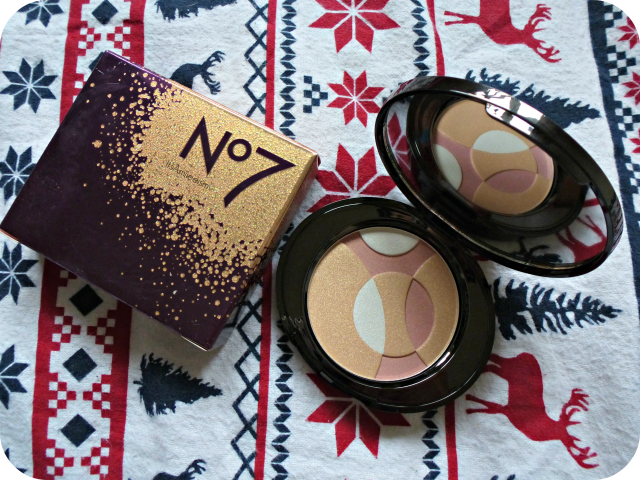 My three main weaknesses when it's come to shopping for new makeup is makeup brushes, bronzers and highlighters. The latter being the one that I have a lot of already, all varying in different shades to formulas. Before Christmas, No7 came out with a limited edition highlighter and it was love at first swatch!
The No7 Radiant Spheres Highlighter (£12) is a mix of three shades in one palette with an interesting sphere pattern to give a radiant, illuminated finish to the skin. For a more intense, shimmering finish you can simply sweep one of the three shades across the cheek and brow bones to finish any look.
I will put my hands up and say that I only started using this last month as I was a little afraid to use it on my pale complexion despite it being love at first swatch. However I don't know what I was afraid of as it is the most beautiful golden shimmer highlighter ever which I actually don't own in my collection until I cracked open this beauty. It gives the most radiant finish which I prefer to use on the tops of my cheekbones for an intense highlighted finish as I believe it would give a disco ball finish if used all over the face as a setting powder. I will admit and say that it is a little glittery for my liking but one sweep is all that is needed. Unforunately as this is limited edition, I don't believe you can buy this anymore however some No7 counters may have some still in stock.