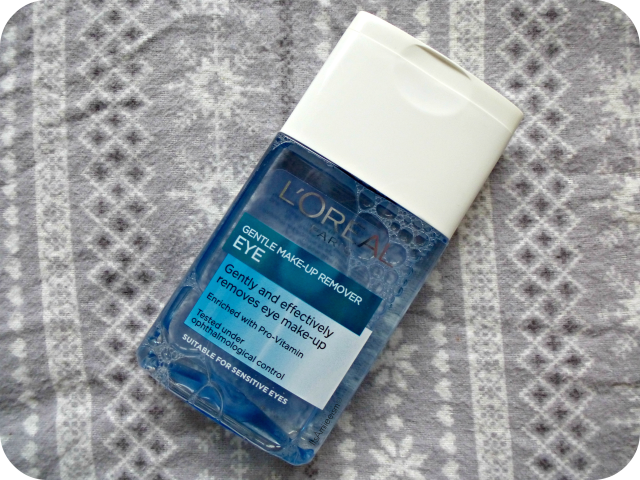 As I'm now wearing makeup on a daily basis, I need a good quality makeup remover to remove the bulk of it with a seperate eye makeup remover to remove all my eye makeup. The one that I've been reaching for recently is the L'Oreal Gentle Eye Makeup Remover which may just be the one..
The L'Oreal Gentle Eye Makeup Remover (£3.49)

is a blue bi-phase liquid that you have to shake up in order to combine the two liquids. It is enriched with pro-vitamin to gently and effectively remove all traces of eye makeup. As it is so gentle, it is suitable for even the most sensitive of eyes as well as contact lens wearers.
Unlike previous eye makeup removers that I've used in the past, a little shake of the bottle is all that is needed to combine the two liquids together which stay combined for a little longer than most. As it has a cap lid, you can semi control how much to dispense onto a cotton wool pad which means that you won't be wasting quite as much as others. What I love about this particular eye makeup remover is just how well it removes my eye makeup - I like to soak a cotton wool pad before holding it against my eyes for a few seconds before sweeping it away and it will have almost removed all my eye makeup which is incredible! I wouldn't necessarily say that a little goes a long way with this as I do appear to be going through it rather quickly but as it does the job so well, I can't complain. Overall this is a brilliant budget eye makeup remover and is one that I will most definitely be repurchasing.