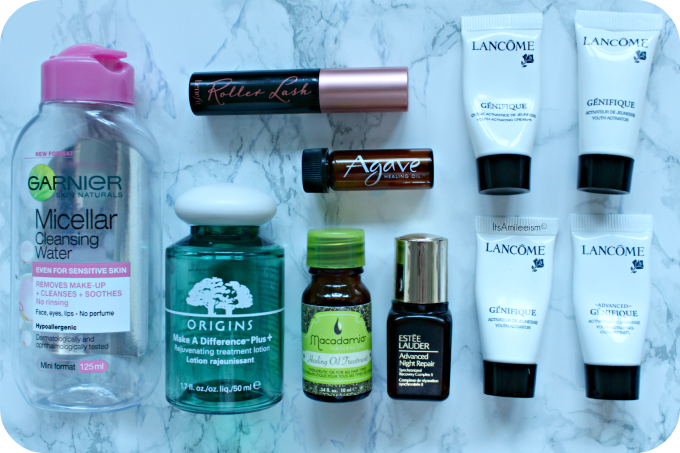 Does anybody else have a stockpile of samples or is it just me? Despite making a conscious effort to use them over full size products, it appears that I haven't made any sort of noticeable dent in the stash so I'm hoping that after my holiday next month, I'll have used up quite a fair few.
I've used up a travel sized

Garnier Micellar Cleansing Water

which I absolutely love using to remove my makeup as it literally takes it off within a few swipes. I've finished up the

Origins Make A Difference Plus+ Rejuvenating Treatment Lotion

which I used as a refreshing toner after using an exfoliating toner. Whilst I didn't really rate the scent much, I absolutely loved what it did to my skin which is good considering that I bought the full size of this back in May without even trying it out first.
I've used up a wee sample of the

Benefit Roller Lash Mascara

which truly helps to define and lengthen the lashes whilst creating the appearance of false lashes. As much as I love what this mascara does to my short lashes, I cannot justify the price of it especially when I have so many new mascaras to use. I've finished up a sample of the

Agave Healing Oil

which I applied to my hair after washing it to help nourish it and hydrate and boy did it do a brilliant job! It didn't feel greasy at all and made my hair feel incredibly soft so I will definitely be buying this in full size.
I've finished up the

Macadamia Healing Oil Treatment

which just like with the Agave offering, I applied it to my hair after washing it. This also helped to make my hair incredibly soft and gave it a unbeatable shine which I will most definitely have to buy in full size once I finish up my current hair oils. I've used up the

Estee Lauder Advanced Night Repair

which I use most evenings to help transform my skin overnight as it helps with any blemishes I may have and helps with any dryness.
I've used up three samples of

Lancome Genefique

which helps make my skin soft and helps make any serums I apply afterwards absorb a lot better. I wouldn't necessarily say that I would repurchase this as it is rather expensive for what it is however I have started using a dupe of this which works just as good. Lastly, I've finished up the

Lancome Genefique Cream

which is essentially a cream version of Genefique but is much more nourishing on the skin. I didn't notice any groundbreaking results from this as I only got three full face applications from this but it did help with my dry skin.