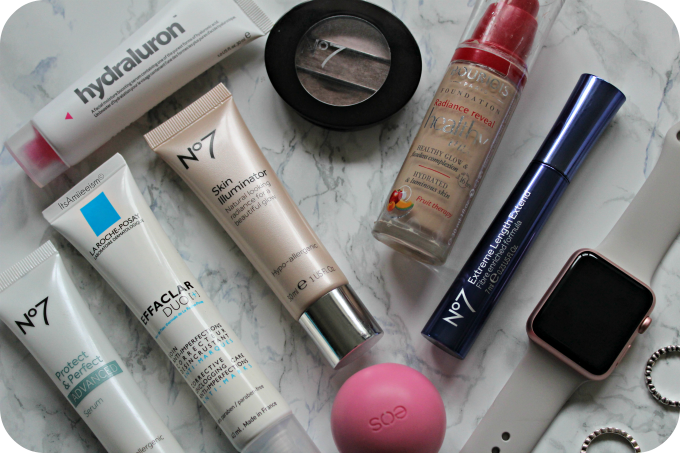 April has been a crazy month for me with both work and personal life. It's been a mixture of happiness and sadness and it's made me reflect on my own life. I won't go into detail but towards the end of April, I lost someone very close to me and I haven't yet bounced back from it so I've pretty much been a makeup free emotional mess rece

ntly.

Before we all start getting emotional and all, let's share what products I've been loving throughout April.
I've really been upping my skincare game and trying to be more consistent with what I'm using so I've been religiously applying the No7 Protect & Perfect Advanced Serum whenever I get the chance. I find that this is the perfect serum for me as it helps keep my skin hydrated whilst preventing any signs of ageing. I will definitely be trying out more of the No7 Serums and perhaps do a comparison at a later date.
Speaking of skincare, I've been breaking out terribly with blemishes which is down to not sleeping much and emotional eating so I've been using the La Roche Pose Effacer Duo+ to help combat them. This helps to not only keep pesky blemishes at bay but also helps to prevent future ones from appearing too. I've been upping my water intake over this past month so although my skin looks more plumped, I've still been relying on trusty Hydraluron to help keep my skin hydrated for longer. This acts like a magnet with your moistur

iser to help moisturise your skin deep down and my skin absolutely loves this!
For the times when I have worn makeup, I've been wearing the Bourjois Healthy Mix Radiance Reveal Foundation as this is a medium to full coverage foundation that can be built up that makes my skin appear more awake and radiant. Combined with my beloved No7 Skin Illuminator which gives a radiant look to the skin whilst still being natural and you've got yourself a match made in heaven! Speaking of No7, I've returned to using their Extreme Lash Extend Mascara that I've most definitely missed! This helps to seperate my lashes and define them whilst giving lots of length. It's quite literally one of my holy grail mascaras

!
I've also returned to using the

No7

Good Earth Eyeshadow Trio

which contains the perfect mix of colours to take you from day to night. I tend to apply the middle shade all over the lid with the darker colour in the crease, very slightly smoking it out with the lighter shade as a brow highlighter. Whenever I wear this trio, I get lots of compliments as it just seems to go nicely with my natural eye colour. I've been suffering with dry lips as of late so I've been using various

EOS Lip Balms

which I have dotted around all over the place. These little spherical balms are ideal for dry, chapped lips as it contains shea butter, vitamin E and jojoba oil all packed in one ha

ndy shaped balm.
A complete miscellaneous favour

ite

for me this month is literally one that I've only had for the last week and a half or so

is the Apple Watch Sport 42mm Ro

se Gold with Stone Strap

. Many people deem this as completely unnecessary and a waste of money which I completely agreed with at first however I want to say that it has completely changed my life. I'm definitely one of those people who is forever on their phone however since I bought this, I'm no longer checking my phone for messages/instagram/facebook as I get it all on the Apple Watch and if it's not directly aimed at myself, I simp

ly dismiss it and carry on with whatever I'm doing. It's also been incredibly handy for work as w

ell as I just have to look down at my watch to read messages instead

of pulling out my phone every time I felt it go off.