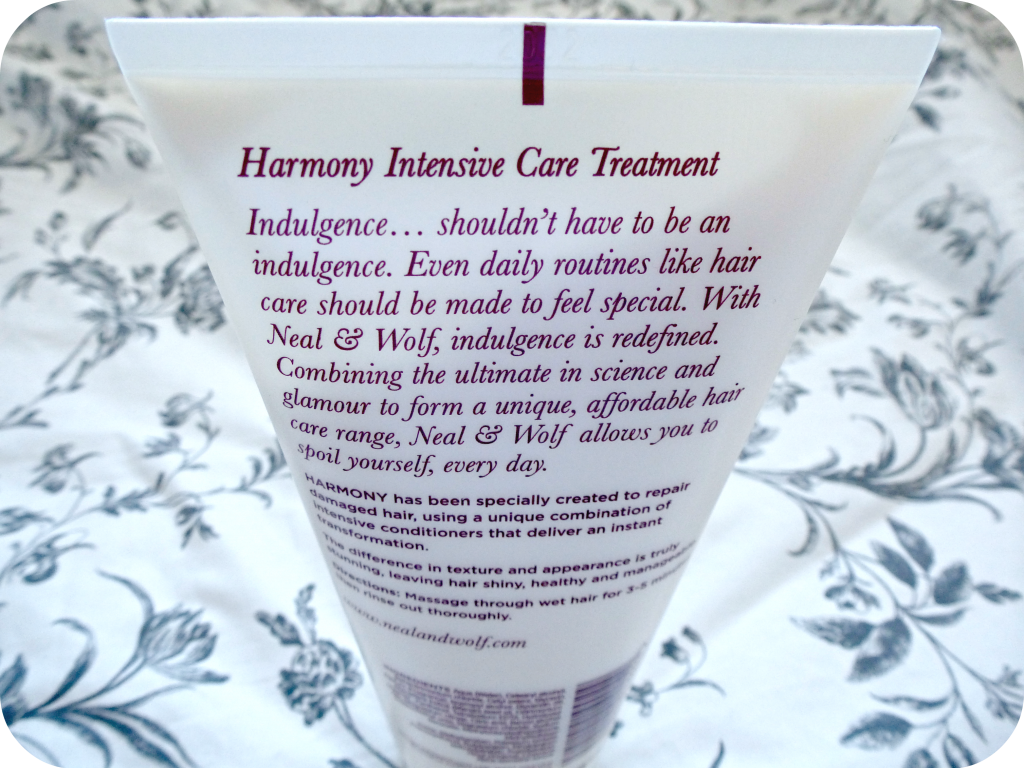 After discovering the Tresemme Keratin Smooth Treatment Masque over six months ago, I've found that it wasn't doing the job as well as it used to do. So it wasn't until I read a review of the Neal & Wolf Harmony Intensive Care Treatment on a blog that I knew I wanted to try it out for myself. Luckily, it was included in my #NottsBBMeet goodie bag so you could say I was over the moon to finally have it.
Neal & Wolf is the brainchild of Neil Capstick who has worked in the hair industry for over twenty years. It combines both the ultimate in product excellence with the ultimate in glamous to provide a professional haircare range without the stunning price tag. Harmony has been specially created to repair damaged hair,

which we both know I have

, using a unique combination of intensive conditioners that deliver an instant transformation. The different in texture and appearance is truly stunning, leaving hair shiny, healthy and manageable.
After having this stuck in a drawer for a few weeks, it's fair to say that this stuff stinks. Not in a bad way at all but rather in a luxurious, perfumed way that it is impossible to say exactly what it smells like. The consistency of this is pretty light for a "combination of unique conditioners" however once left massaged into damp hair for 3-5 minutes , you are literally left with a transformation of more healthy looking, shiny hair that is both manageable and tangle free I found.
I've been using this twice a week and to say that I haven't seen a change in my hair is an understatement. I can now go longer without washing my hair if need be and it has now got its shine back. It also feels a lot more healthier than before and for that, I would happily repurchase this in a heartbeat.
The Neal & Wolf Harmony Intensive Care Treatment is available on their

online website

but is remarkly cheaper on

Beauty Bay

for £9.95.