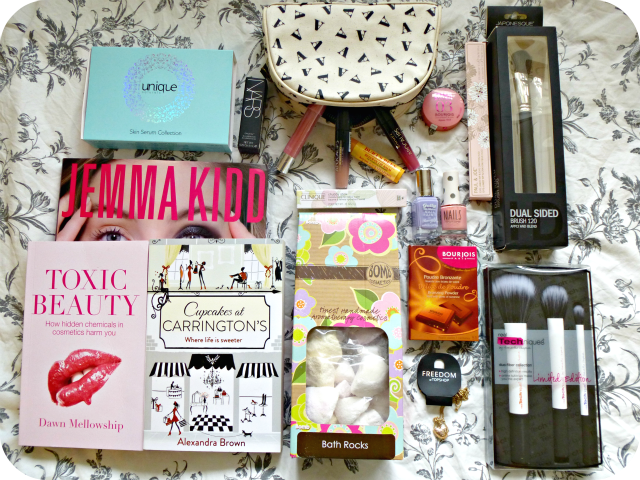 I know that these sorts of posts are rather controversial and can be seen as a way of bragging however I personally quite like seeing what other people get for their birthdays so I thought I would share what I got for mine.
I actually got my main present back in January which you can read about

here

. With that in mind, I didn't get a lot from my Dad and his partner, Rebecca but none the less I'm grateful for it. Rebecca bought me a Alphabet Makeup Bag which featured on

gh0stparties

' blog a while back which has been on my birthday list ever since I saw it. My Dad got me the Jemma Kidd Makeup Secrets Book which I've been reading snippets of ever since I got it as it's such an insightful book which gives tips and tricks on how to apply makeup. Liam actually didn't pick out my present as I bought it myself with his card at the start of the month which he knew about may I just add! As the Real Techniques Duo-Fiber Collection wasn't due to be released until the 20th this month, it made s

ense to order it online from the States which made it a hell of a lot cheaper!
One of my dear friends

Jessie

, surprised me with a personalised birthday card as well as quite a few things off my

Birthday Wish

list

. She got me the Bourjois Chocolate Bronzer which I've been wanting forever, Barry M Gelly Hi-Shine Nail Paint in Prickly Pear as well as a Revlon Just Bitten Kissable Balm Stain in Honey. One of my other dear friends,

Sophie

also

surprised me with a Clique Chubby Stick in Curvy Candy, Topshop Necklace, Topshop Nail Varnish in Keepin' It Sweet and

one of the new Bourjois Cream Blushes.
I actually received a massive box just over an hour ago from somebody who you all know,

Sophi

a from Tattooed Tea Lady

. She bought me two books; Toxic Beauty and Cupcakes At Carringtons as she knows how much I love my books. She also got me a NARS Illuminator in Orgasm, a Paul & Joe Dual Ended Eye Liner, a Skin Serum Collection by Unique and a load of Bath Rocks by Bomb Cosmetics. She also got me two more things which are two Rimmel Apocalips in Nude Eclipse and Celestial which were also on my Birthday Wishlist. One of my newest friends

Megan

who I only met and started talking to last month, got me a Japonesque Dual Sided 120 Brush and a Burts Bee Lipb

alm which I cannot wait to start using!
I would just like to give a big massive thank you to Jessie, Sophie, Sophia and Megan for everything you've got me! You don't know how spoilt I feel right now. I would also like to thank everybody who wished me a happy birthday on Thursday as you truly made my da

y.