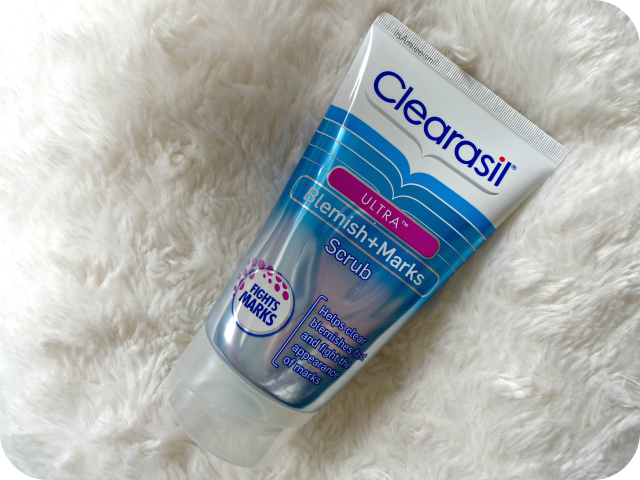 There is no denying the fact that when we all started out using skincare, we used really gritty manual scrubs that were probably too harsh for our sensitive skin and which probably did more harm that good. Fast forward a few years and I like to think that we've all come to terms on what works best for our skin, myself included. I've learnt that whilst a manual scrub is good for my skin, using it every single day does more harm so I've restricted myself to using it only twice a week whilst using a chemical exfoliator inbetween. The only manual scrub that I've been reaching for recently has been the Clearasil Ultra Blemish + Marks Scrub which although it may be targeted specifically for blemish prone skin, it's been working wonders for my skin!
The Clearasil Ultra Blemish + Marks Scrub (£5.99)

is one of the more typical scrubs with beads in it to help provide a deep skin cleaning experience. This scrub has been designed to work on your skin from the very moment a blemish appears. It contains a unique ingredient complex with Vitamin B3 which helps fight the blemish itself whilst fighting the appearance of marks and to help enhance the skins renewal process.
As mentioned, I only use this twice a week mainly in the evenings to avoid over exfoliating my skin. I like to squeeze out a generous amount before placing it in each quarter of my face before proceeding to scrub it onto my skin, concentrating on any key areas like on my nose and cheeks before washing it off completely with a warm muslin cloth. Since I've started using this, my skin has changed completely. The texture is now a lot more refined without the usual under the skin bumps and active blemishes and it's almost entirely smooth. I've noticed that whilst I have had a few active blemishes, they've pretty much disappeared completely after a few days especially after using this scrub. Whilst there is a lot of controversary surrounding scrubs with beads in it, I personally don't read into it as I like how they make my skin feel. Nothing beats a freshly scrubbed face! If you're after a good scrub that doesn't break the bank then I urge you to try this for yourself, especially if you suffer with blemishes!