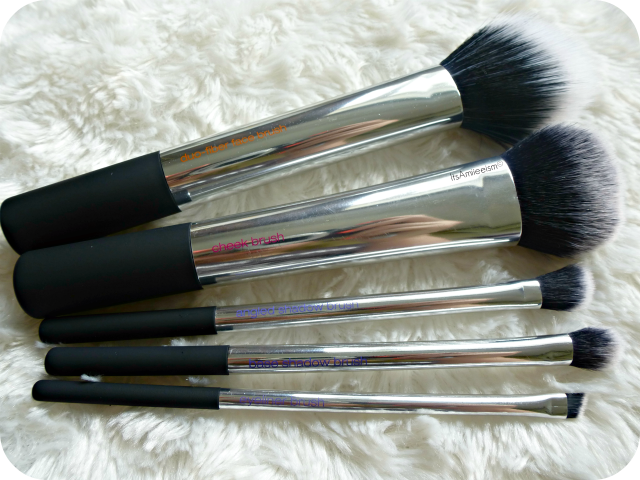 Every beauty blogger and their dog have a witness when it comes to blogging whether it be having a unhealthy amount of foundations or hundreds of lipsticks which are all varying shades of the same colour. My unhealthy obsession after bronzers and highlighters definitely has to be makeup brushes, in particular ones that are cheaper than their expensive sisters. I am forever buying makeup brushes despite probably have a few of the same brush to do the exact same job. Just before Christmas, Real Techniques released a few more brush sets to the collection which I couldn't resist treating myself to, one of which is the Nic's Picks Set which are a selection of brushes that Nic personally has chosen.
The Real Techniques Nic's Picks (£29.99)

is a set of five brushes in a limited edition silver metallic design which includes three exclusive brush cuts which you cannot buy separately The brushes included in the set are the Duo-Fiber Brush, Cheek Brush, Angled Shadow Brush, Base Shadow Brush and the Eyeliner Brush.
The Duo-Fiber Brush is one brush that will not be getting much love from me as I already have this brush from the Duo-Fiber set. It's the perfect, lightweight brush for dusting over any powder without making it look caked on or too powdery.
The Cheek Brush is slightly tapered, more dense brush that is packed with bristles that are ideal for applying any blush or bronze. Whilst it is the perfect size for the cheeks, I personally can't apply bronzer with it as it is still too stiff despite using it and washing it multiple times. With that said, it does apply the product beautifully.
The Angled Shadow Brush as the name suggests is quite literally an angled shadow brush which you can use to add definition on the eyes to create depth, filling in your eyebrows or for eyeliner itself. This is another brush that I haven't yet used as I don't particularly have a use for it at the moment as I haven't been experimenting with any dramatic eye looks however from the shape of it, I bet it would work okay at blending eyeshadow out.
The Base Shadow Brush is quite literally my favourite brush from the set as it's it the perfect sized brush to apply eyeshadow all over the lid, in the crease or for blending it all out. I prefer it for the latter as it just gets into the crease perfectly and applies just the right amount of colour. I really do wish that you could buy this brush separately as I would no doubt buy quite a few more of it!
The Eyeliner Brush is another self-explantory brush as the name suggests as you can use this to add definition at the lash line as well as to fill in your eyebrows. I still haven't found the perfect use yet for this brush however I bet that it would work wonders with Benefit Brow Zings to really fill in my eyebrows and make them appear thicker and fuller.