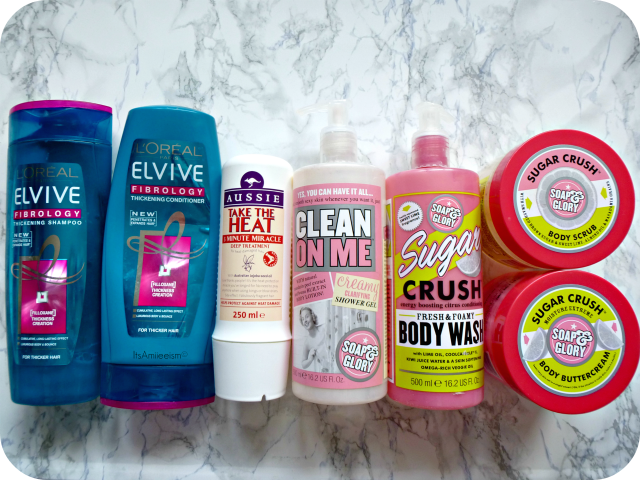 I've finished up the

L'Oreal Fibrology Shampoo + Conditioner

which my hair just loves! It's a thickening duo that helps make your hair feel thicker after each use which lasts so I'll definitely be picking up another one of these soon! I've used up the

Aussie Take The Heat 3 Minute Miracle

which I use every Sunday to help make my hair feel silky soft after a weeks worth of heat damage and it certainly does the trick! I've finished up yet another

Soap & Glory Clean On Me Shower Gel

which I use as a shaving lotion and will forever repurchase. I've used up a

Soap & Gory Sugar Crush Body Wash

which although lathered up nicely and smelt good, it just didn't particularly wow me. I've finished up the

Soap & Glory Sugar Crush Body Scrub

which is one of their more grittier scrubs and definitely helped buff away dead skin! I've used up the

Soap & Glory Sugar Crush Body Buttercream

which was so hydrating on the skin and made my skin feel incredibly soft to the touch!
I've finally finished the huge

Taaj Himalaya Micellar Water

which I loved using to remove the bulk of my makeup except for my eye makeup as it sure stung! I've used up the

No7 Soft & Soothed Gentle Toner

which felt nice on the skin just went through it far too quickly although I will be repurchasing as soon as I've used up some more toners. I've finished up another

Liz Earle Cleanse & Polish

which will forever be in my stash as it's just such a good all rounder cleanser. I've used up the

Botanics Rosewater Toning Spritz

which is a good alternative to the likes of Serozinc say except the Botanics offering is far more moisturising! I've finished another

No7 Protect & Perfect Advanced Serum

which is still growing on me despite this being my second tube! It's one of those serums that I bet you won't see immediate results until you stop using it. I've used up another beloved

Lacura Aqua-Complete Multi Intensive Serum

which I much prefer over Hydraluron but will continue using the two together. Speaking of

Hydraluron

, I've finished up another tube of the stuff! The two combined is a hydration seeking match made in heaven! I've used up the

Boots Tea Tree & Witch Hazel Exfoliating Pads

which although I liked using at first, they started to feel a little dry towards the end. I've finished up the

Carino Miracle Oil

which despite being such a small bottle, it lasted for what felt like forever! This helped keep my locks in tip top condition which despite how much I fry it with heat, it still kept it manageable.
I've used up two packs of the

No7 Quick Thinking Wipes

which will forever feature in these empties posts along with a pack of the

Wilko Maxi Oval Cotton Pads

as these two are just staples in my everyday life. I've finished up the

Estee Lauder Little Black Primer

which I mainly used as a primer before applying my mascara to help tint the lashes whilst giving them a curl and it sure does work wonders for my short lashes! I've used up the

L'Oreal Lumi Magique Pure Light Primer

which I use as both a primer, highlighter and mixed in with my foundation to create the perfect radiant base. This will forever be repurchased as it just makes my skin look so luminuous! I've finished up a

MAC Eyebrow Pencil in Lingering

which is the perfect colour match for my brows. Lastly, I've used up a bunch of Lush products which aren't pictured including Big Blue Bath Bomb, Cinders Bath Bomb, Fizzbanger Bath Bomb, Blue Skies & Fluffy White Clouds Bubble Bar, Candy Mountain Bubble Bar, Space Girl Bath Bomb and

Ickle Baby Bot Bath Bomb

.