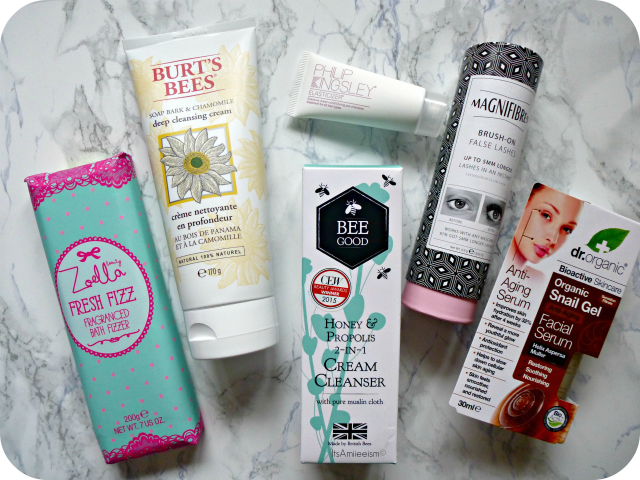 There's something that I love about beauty boxes especially one off boxes that are limited in number or boxes where you can choose which products you want in it. So imagine my happiness when I discovered that Latest In Beauty are doing their

Beauty Awards 2015 Box

where you can pick from 30 finalist products across various categories including Cult Classic, Green Award, Best Newcomer, Skincare Saviour and Must-have Makeup to name just a few. You have the choice of three different boxes where you can either pick 3, 6 or 9 products for a set price and you'll be automatically entered into a prize draw for the chance to win every single full size finalist product which is worth over £875!
I went ahead and chose six products despite knowing that I've well and truly failed my new year beauty resolutions. Out of all the products available, I chose mainly products that I knew that I would use as well as products that would cover the cost of the box and more whilst still being products that I've been wanting to try out for ages!
Despite recently buying a few Liz Earle Cleanse & Polish, I couldn't resist choosing both the

Burt's Bees Soap Bark & Chamomile Deep Cleansing Cream (£10.20)

and the

Bee Good Honey & Propolis 2-in-1 Cream Cleanser (£11.50)

which are both natural products that promise to cleanse your skin properly without making it feel dry, tight and irritated. Another skincare product that I simply couldn't resist is the

Dr Organic Snail Gel Anti-Aging Facial Serum (£17.99)

that has been intriguing me for the longest time ever. I'm hoping that isn't as gross as the name suggests..
Not too long ago, everybody was raving about

Magnifibres (£16.99)

which is a fibre infused mascara like brush that you simply brush on after applying your first coat of mascara, wait thirty seconds before proceeding to apply a second of mascara which gives dramatically longer lashes. So it seemed only fair to choose it for my box especially when I'm struggling with my own short, stumpy lashes! Another addition to the box that everybody and their nan raves about is a teeny sample of the

Philip Kingsley Elasticizer (£29)

that helps add serious strength to damaged hair whilst reducing any breakage. Whilst I don't necessarily have overly damaged hair, I am struggling with breakage so I'm hoping that this will transform my locks! The last addition that I chose for my box is the

Zoella Fresh Tutti Fruity Bath Fizzer (£5)

which I will admit that I only chose because I'm running out of bath bombs. Hopefully this is as good as the world says!
Have you taken advantage of the Latest In Beauty Awards Box? What products did you choose?