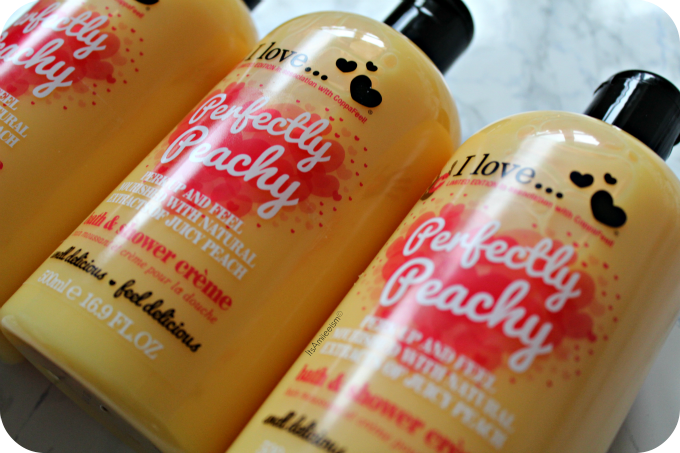 I'm sure that I'm not alone when it comes to not wanting to spend a fortune on products like shower gel, soap etc. I personally see it that you're literally washing away money as there is really no difference between a shower gel that cost £1 compared to one that cost £30+ apart from the brand/scent/ingredients but realistically, they all do the same job. With that being said, when I came across the I Love.. Perfectly Peachy Bath & Shower Creme, I had to stock up and buy a few bottles as they've teamed up with CoppaFeel to help promote breast cancer awareness.
The

I Love.. Perfectly Peachy Bath & Shower Creme (£2.99)

is a paraben-free and PH-balance shower gel that not only smells of heavenly ripe peaches but also gently cleanses and cares for the skin with a non-drying formula boosted with extracts of passion flower and peach. However it's much more than just a showergel, it has a handy #ShowerHijack guide on the back of the bottle which explains how to thoroughly check your breasts for early signs and symptoms of breast cancer.
I Love.. are the first company to include information like this on their packaging and it is such a great way of putting the information out there whilst making it accessible but more importantly, fun! It literally takes just five minutes to check your breasts and whilst you're in the shower/bath, it's literally the most ideal place to do so. I'm sure that once I've used up the ginormous bottle, I'll keep the back part and some how frame it in the bathroom so every time I'm in the bath, I literally CoppaFeel as it were ;)