I've finished up the CoLab Dry Shampoo in Tokyo which gave second or even third day hair look freshly washed complete with a nice scent. I've used up a cute travel sized Liz Earle Instant Boost Skin Tonic which I have tried before and I do absolutely love this as a refreshing toner. I've finished up decent sized sample of the Yin Yang Natural Moisturiser that I managed to get atleast two weeks use of - it smelt very natural and felt light on the skin yet made my skin feel really hydrated. I managed to get one full use of the

Suti Cleanse Balm

which smelt nice and cleansed my skin well just I prefer cleansers and oils over balms. I've used up two samples from Avene which was their Light Hydrating Cream and the Rich Compensating Cream - both hydrated my skin just I much preferred the rich one especially at night. I used up the Silk + Honey Shea Butter Hair Mask all in one use which I didn't realise at the time but had actually expired back in August 2014 which explains why it smelt a little funky. I managed to get two full body applications from the Whish Body Butter in Almond which smelt so bloody good and left the skin feeling incredible soft and moisturised. I didn't really use the Max Factor Masterpiece Max Mascara as I used it a few times and then just moved on to something else and completely forgot about it so I don't really remember if I liked it or not. The No7 Lash Impact Mascara on the other hand is on

e of my favouite mascaras as it helps to make the lashes look really defined and gives a lot of volume.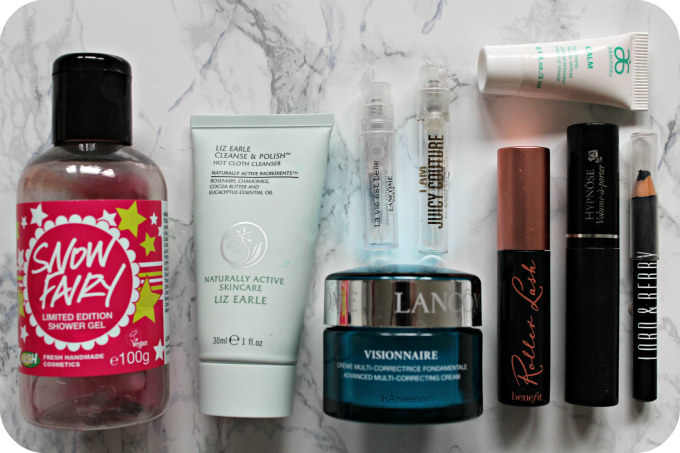 I've used up the Lush Snow Fairy Shower Gel which all bloggers seem to love as it's the most sweetest shower gel ever and this certainly didn't disappoint! I've finished up a decent sized Liz Earle Cleanse & Polish which I've used up countless bottles of as it's one of the best hot cloth cleansers around as it cleanses the skin without making it feel dry and tight afterwards. I've finished up two perfume vials; the Lancome La Vie Est Belle is a little mature for my own taste but still smells nice none the less whereas Juicy Couture I Am Juicy Couture is right up my street and a purchase is definitely on the cards! I've used up the Arbonne Calm Soothing Facial Serum which made my skin feel soft and kept it hydrated too so I may consider buying this in full size at some point. I've finished up the Lancome Visionnaire Advanced Multi-Correcting Cream which I really loved using especially when my skin was playing up! I just wish this wasn't so expensive as I would buy this in a heartbeat! I've used up two mascara samples; the Benefit Roller Lash helped define my lashes and made them look fuller and the Lancome Hypnose Volume-a-Porter pretty much did the exact same - I loved both mascaras and would consider purchasing one of these in full at some point. I haven't necessarily used up the Lord & Berry Black Eyeliner but it's gotten all short from sharpening that I can no longer hold it! It's a simple black eyeliner that did the job but wouldn't necessarily rush out to buy.