I've finally used up the

Organix Macadamia Oil Shampoo + Conditioner

which I really enjoyed using. It made my hair feel really soft and full of life which my hair normally struggles with. I noticed that I didn't have nearly quite as many split ends when I got my hair cut last month so this duo definitely helps to mend them almost. I've finished up my morning cleanser in the form of

Superdrug Naturally Radiant Hot Cloth Cleanser

which really helps to waken both myself and my skin up in the morning. I didn't notice a huge difference in my skins radiance however it did help with keeping my skin feeling nourished. This will definitely be geting repurchased! Another skincare product that I've used up is the

Neutrogena Visibly Clear Gentle Exfoliating Wash

which I've been using on and off for a little over a year now. It helps to gently exfoliate the skin whilst helping to get rid of blemishes which I haven't had quite as many this month whilst I've been using this. I was sad to finish up the last of the

Amie New Leaf Skin Exfoliating Polish

as it's definitely become one of my favourite mid week skin treats! It smells very fruity and it contains bamboo seeds which help to clean the skin pore deep. I will definitely be repurchasing this very soon!
I've used up another

Aussie Miracle Hair Insurance Leave-In Conditioner

which means that I'm now currently on my third bottle I believe. I use this primarily as a detangler after I've washed my hair and I notice a difference when I don't use this in my hair. This will be a constant repurchase! I've used up a Neal's Yard Rehydrating Rose Daily Moisturiser which Sophia gave me as she had some skin care which she thought I may like. I actually used to use this before I started blogging and I didn't rate it that much. This is still the case two years on! It's pleasant enough just I don't like the scent nor do I feel that it's very moisturising. I've used up a

Boots Vitamin E Gentle Eye Cream

which I feel I used up far too quickly than normal. This has been the only eye cream that I've used ever since I started blogging and I still love it! It sinks into the skin quickly and is cheap as chips. As a bonus, it contains SPF15 so I know that my eyes will always be protected. I've used up The Body Shop Pink Grapefruit Antibacterial Hand Sanitizer which I've had since I went to America last year. This is definitely my favourite scent that The Body Shop do and it definitely did the trick at keeping my hands sanitised.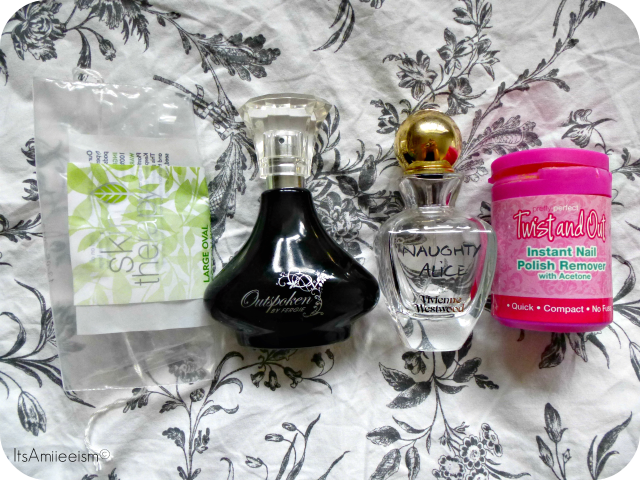 I've used up a packet of the

Skin Therapy Large Oval Cotton Wool Pads

which are my holy grail item when it comes to cotton wool pads. They're bigger than average sized cotton wool pads and they don't fall apart when they get into contact with a liquid. I love using these and they will be forever repurchased. I've finally used up my Outspoken by Fergie perfume which has been going on forever! I would definitely class this as my everyday scent as it doesn't smell too overpowering. I've already moved onto my next bottle of this as I love it that much. I've used up another perfume in the form of Naughty Alice by Vivienne Westwood which I've been trying to ration. It is such a beautiful scent and is one that I think should only be worn for special occasions. The last product I've used up is another staple which is the Twisted and Out Instant Nail Polish Remover. It's such a simple product that I simply cannot live without. I've gone through many of these and I will keep on repurchasing it.
What products did you use up throughout August?