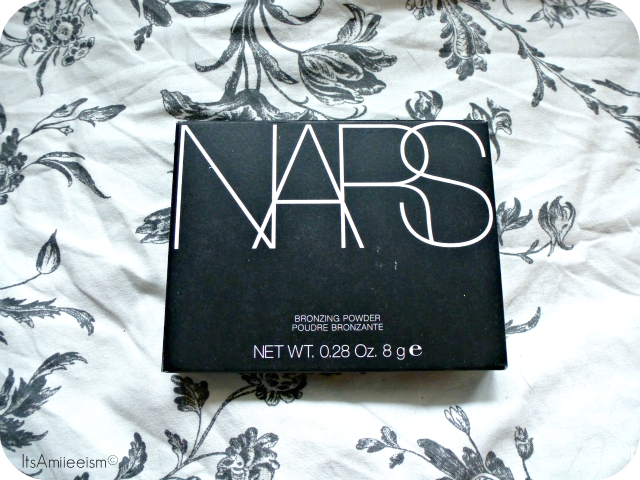 The NARS Laguna Bronzer is one the cult products that many people love and adore. It's the perfect bronzer for most complexions which has earned it holy grail status amongst many bloggers. This has been on my wishlist for quite a while and it wasn't until the

#NottsBBMeet

back in April that I finally caved in and bought it.
NARS Laguna is described as being a diffused brown powder with golden shimmer running throughout which I quite agree with. It comes encased in NARS' standard rubber packaging which is prone to getting very mucky however it does look very professional and luxurious none the less. It has a massive mirror meaning that its perfect to chuck into your bag and to touch up on the go which is a bonus.
The one thing that I keep on forgetting with Laguna is that a light hand is needed! Too much swirling of the brush can result in having orange mud patches for bronzer which has happened one too many times for me and sadly, no amount of blending it out would help. With that being said, I cannot fault its pigmentation as it only requires one sweep and you're good to go. When using a light hand, it gives the skin a nice healthy glow which just a hint of bronze shimmer. This is not a matte bronzer like many people say it is as it contains gold shimmer. However, it does mean that Laguna is perfect for contouring with.
Despite it sounding like the perfect bronzer, I just don't reach it for it on a daily basis due to it being so pigmented. I much prefer being able to build up the bronzer rather than taking a risk of looking like an oompa lumpa with one sweep. I know many people love pigmented products it's just down to personal preference, I much prefer using the Bourjois Chocolate Bronzer over this. Although that doesn't mean that I won't change my mind in the near future as I'm pretty sure that with a tan, I'll be reaching for this a lot more. However for now, it's being pushed to the back of my makeup drawer. You can purchase NARS Laguna from many stockists including

Space NK

and

House Of Fraser

for £26.
What are your thoughts on the NARS Laguna Bronzer?