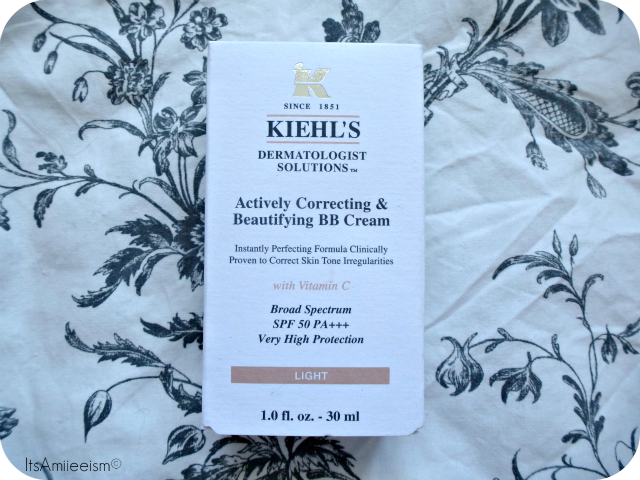 Kiehl's is a brand that is fairly new to me and after purchasing and using their

Midnight Recovery Concentrate

every night for the past three and a half months, I can see why Kiehl's is such a successful brand when it comes to skincare. Make up wise however, they've only just started to branch out in and I was rather sceptical when it came to trying out their Actively Correcting & Beautifying BB Cream which I received in my

#NottsBBMeet Goodie Bag

. So much so, that it was only a month ago that I finally dug it and gave it whirl. After using it for a few weeks now, I think it's about time I shared my two cents on it.
The Kiehl's Actively Correcting & Beautifying BB Cream claims to be much more than a normal BB cream. Its ingredients work to instantly perfect the skin by evening out by visibly correcting the appreance of any skin tone irregularities whilst preventing the formation of new ones with continued daily use. It also helps to reduce the apperance of pores and fine lines as well as concealing any imperfections and blemishes whilst keeping the skin hydrated all day. What makes this BB cream stand out from the rest is that is has two massive selling points - one being that it has SPF50 which is incredibly high for a makeup product and the other being that it contains Vitamin C which is known for it's powerful clarifying action as well as helping to perk up the skin.
It is available in three shades only - fair, light and medium which translates across as light, medium and dark respectfully. I've been using the shade Light which contains a lot of pink undertones in it which sadly comes across as being too dark/orange. As the consistency of this BB cream is quite thin, it means that it buffs into the skin quickly. Whilst this is too dark for me at the moment, I've noticed that when I buff and blend it into the skin, you can hardly tell that it doesn't quite match my skin tone. I find that it gives a very light coverage meaning that it doesn't quite cover scars and blemishes however using concealer will soon sort that out. As it is very thin in consistency, it feels very soft and almost weightless on my skin which gives the impression that you're not wearing any make up at all. I find that this lasts a good six-ish hours without powder which to me is very impressive. It's definitely one of those products that you can simply pop on in the morning and not have to worry much about it as it gives a dewy, almost flawless complexion.
The Kiehl's Actively Correcting & Beautifying BB Cream comes in a 30ml tube and costs £23.50. You can pick this up from the

Kiehl's website

and

Selfridges

.