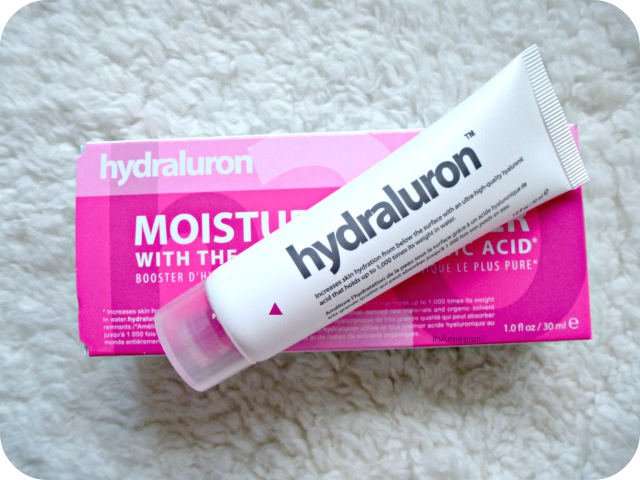 Hydraluron is definitely classed as one of those most have skincare products which is partially down to Caroline Hirons declaring it the product to have if you suffer with dry skin or if you just fancy boosting your skins hydration levels. Whilst everybody was going crazy about it, I discovered the

Lacura Aqua-Complete Multi Intensive Serum

which is technically the same thing jut cheaper and not in its purest form. Whilst I do still love it and use it on a daily basis, I couldn't help but wonder if Hydraluron truly is as good as everybody claims it is. So I picked it up just before Christmas when it was on offer and I've been using it every morning and night since so I think it's time I shared my two cents on it.
Hydraluron is inspired by injectable hydration and plumping treatments employed in Swiss clinics. Hydraluron uniquely combines the world's purest hyaluronic acid and a bio-engineered strain of red marine algae causing a controlled increase in blood circulation. This increased circulation optimizes the penetration of the small particles of hyaluronic acid into the key deep layers of the skin and refill spaces formed through the aging process and thus improving skin structure.
For the record, I have normal to dry skin which is definitely more on the dry/dehydrated side during winter which means that I have to bump up the hydration levels which is where Hydraluron comes in. It is a clear gel that once massaged in, it's absorbed quickly that doesn't leave a residue providing that you don't apply too much as it will then leave your face feeling slightly tacky. Whilst I have been using this both day and night for the past four/five months, I haven't really noticed any other huge differences apart from that my face looks and feels more hydrated and that makeup sits better. I prefer applying this just before I apply my moisturiser although you can apply it before your usual serum/s and moisturiser as it is ideally classed as a hydration booster.
I have read quite a fair few reviews of people complaining that the minute that they started using Hydraluron, their skin went downhill because it has now become dependent on it. As I have been using this in conjunction with the Lacura Aqua-Complete Multi Intensive Serum, I don't think that my skin has become dependent on it so I'm hoping that when I do eventually run out, my skin won't go downhill. Although saying that, I think I will just repurchase it just for the sake of repurchasing it when it goes on offer again..
What are your thoughts on Hydraluron?