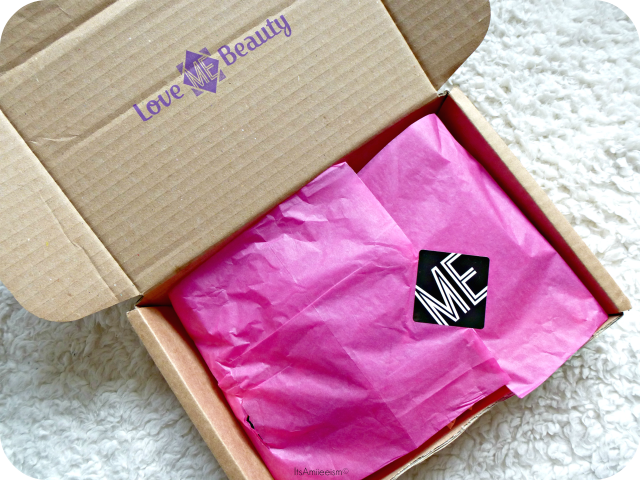 As many people declared June's Love Me Beauty Box a complete disappointment (I didn't!) Love Me Beauty decided to amp it up a notch and offer six-seven products in each box with the majority of them being full size! I opted for edition two purely based on the selection of tea bags included..
Ofra is a brand that I've never heard about until now so I was excited to see their

Pressed Eyeshadow in Bliss

. Bliss is a stunning neutral gold shade that reminds me of Stila's Kitten and MAC's Hoodwinked all rolled into one. The texture of this is really buttery and the pigmentation is intense - even after one swatch! I can definitely see myself getting a lot of wear from this.
Another product from Ofra which I'm sat on the fence about is their

Long Lasting Liquid Lipstick in Hollywood

. Hollywood is a dark pink-red shade which is reminiscent of Collections' Creme Puffs even with the scent! I cannot fault the pigmentation as it's really rich and vibrant just I didn't get on with the Creme Puffs so I can't see myself getting on with this either.
As I've been experimenting more with filling in my brows, the

So Susan Dual Brow Powder

is a welcome edition. It comes with two different brow powders that can be used on their own or mixed and matched to create the perfect brow shade. They're both quite warm toned shades so they may not be ideal if you have slight ash undertones but I think I could make them work for me. These aren't as pigmented as the likes of more known brow powders but it's perfect for a beginner like myself!
I've been playing around with mascara recently, layering two together to create voluminous lashes so the

So Susan Flutter Mascara

is another welcome edition to my stash. This has a thin plastic brush that I expect would be perfect for bottom lashes.
A product that wasn't on my edition menu and I'm not sure how I've obtained it (unless it's from filling in their box surveys or put in by mistake) is the

Jelly Pong Pong 2-in-1 Eyeliner & Shadow in Bronze

. This can be used either as an eyeliner for thick, precise lines or as an eyeshadow although it doesn't blend out well to be used for the latter. It feels rather waxy to the touch and I can't see myself using this anytime soon.
The only sample sized product included in this months box is the

Lashem Lash Enhancing Serum

which despite being only 2ml it's still worth an astonishing £22.86! I'm quite happy with how my lashes are at the moment as I've been using my

Eyelash Boosters

on and off since I blogged about them. This will be getting passed onto a friend who has tried everything and still hasn't seen any results so I'm hoping this will work for her.
As I'm not a tea or coffee drinker, I'm not sure what I'll be doing with

The Tea Shed 4am 20 Teabags

that have been included in this months edition. These are naturally low in caffeine so if you drink this at 4am, it'll help you on your way to the land of nod and ensure that you'll still be able to sleep. I think I might just try one for the sake of it and hopefully like them.
The last extra product that I wasn't expecting at all is the

Weleda Sea Buckthorn Replenishing Body Lotion

which is aimed to dry skin. It sinks into the skin quickly once applied and the leaves the skin beautifully soft.
Overall, this box is worth almost £90 (if my maths is correct and if you include the two extras!) which means that it's definitely worth the money. I'm glad that Love Me Beauty made this month more beauty focused with a few extra additions thrown in as I've found new products that I cant wait to try. Hopefully they'll continue this theme for next month..