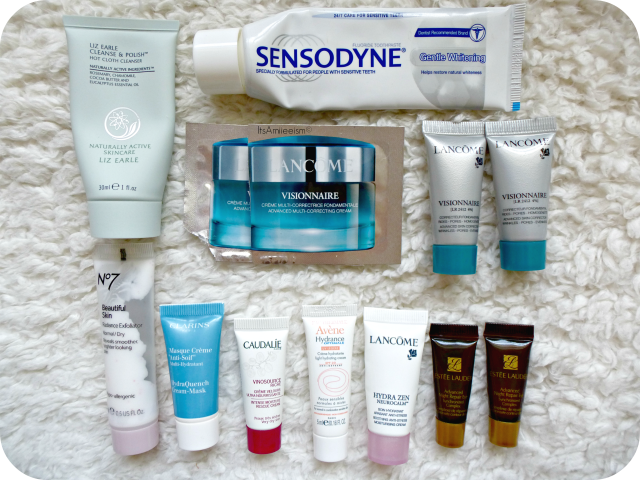 I've used up a decent sized sample of the

Liz Earle Cleanse & Polish

which I've used in the past and absolutely loved. It's a two step cream cleanser that works to give the skin a deep cleanse whilst gently exfoliating the skin at the same time. Using this reminded me how much I missed using it so I couldn't resist buying one recently. I've finished up a sample of the

No7 Beautiful Skin Radiance Exfoliator for Normal/Dry Skin

. This is definitely one of the most gentle manual exfoliators I've used and I'm pretty sure you could use on a daily basis as it truly is that gentle. This left my skin feeling refreshed after use although I didn't feel that it was exfoliating enough for me.
I've finished up generous sized tube of

Sensodyne Gentle Whitening Toothpaste

which has been helping keep my mouth clean and slightly whiten my teeth with every use. I've currently using a full size of this toothpaste as I quite like it as it helps with my sensitivity whilst helping keeping my teeth white. I've used up two satchets of the

Lancome Visionnaire Advanced Multi-Correcting Cream

which had enough in each satchet for atleast three uses. I didn't notice a huge difference with my skin whilst using these apart from that my skin felt really soft and felt more refined to the touch. It had a nice scent to it too but I wouldn't say I would fork out the money for it. I've used up two samples of

Lancome Visionnaire Advanced Skin Corrector Serum

which I absolutely loved! I noticed that whilst using this, my skin felt softer and looked more clear with every use. I have bought this in full size but since returned it after discovering something much cheaper that does essentially the same thing.
I've used up two samples of

Estee Lauder Advanced Night Repair Eye

which I've been using every night. This felt really gentle on the skin and I felt that it hydrated my eye area and helped with dark circles. I will definitely be buying this in full size to use in conjunction with the Estee Lauder Advanced Night Repair II. I've finished up a sample of the

Lancome Hydra Zen Soothing Anti-Stress Moisturising Cream

which although was light on the skin, I didn't find it moisturising enough nor did I notice it doing anything for my skin.
I've finished up a sample of

Avene UV Legere Light Hydrating Cream SPF20

which I used on days where I knew I would be out in the sun. This was a extremely light weight moisturiser that sunk into my skin quickly that felt quite moisturising. I liked that it had an added bonus of SPF20 which I know isn't high enough for the sun we've been having recently. I may consider buying this in full size once I've gone through my stash of day moisturisers. I've used up a sample of the

Caudalie Vinosource Riche Intense Moisture Rescue Cream

which I used when my skin was feeling quite dry. This helped boost my skins moisture levels as it was very hydrating and sunk into the skin quickly. Lastly, I've used up a sample of

Clarins HydraQuence Cream-Mask

which I used mainly at night time and left it on till morning to get the full effect. This really is moisturising and I noticed that my skin didn't feel dry come morning.