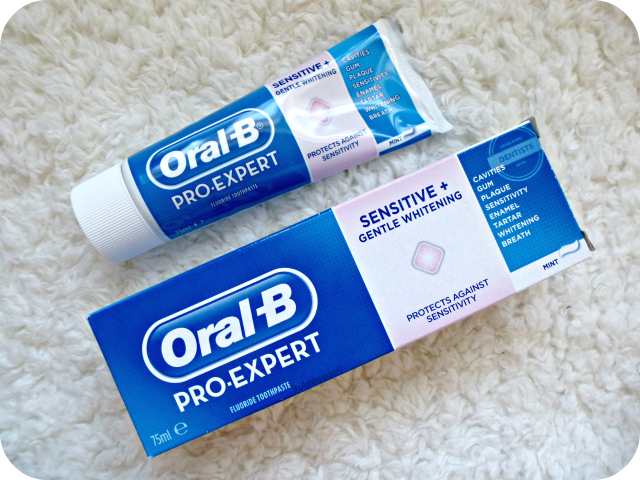 I don't like to spend a lot on basics like cotton wool pads and toothpaste as you go through them at an alarming rate especially when you use them on a daily basis. I recently bought the Oral B Pro-Expert Sensitive + Gentle Whitening Toothpaste when it was on special offer and have been putting it to the test ever since.
The

Oral B Pro-Expert Sensitive + Gentle Whitening Toothpaste (£3.60)

has been formulated to protect teeth against sensitivity and enamel erosion by creating an acid-resisting protective shield. With regular brushing it helps to prevent cavities, plaque, tartar, enamel erosion and gum problems whilst building increased protection against painful sensitivity, helps whiten teeth by removing surface stains all whilst leaving your breath fresh.
I've been using this for a little over two months and whilst I have noticed a difference in the level of sensitivity, I can't help but disagree with some of its claims especially with leaving my breath fresh. It does have a minty taste which seems to fade after an hour or so after brushing which may be good for others but for me on the other hand, I still like to be able to taste it. I also noticed that whilst using this, I feel like that I'm not getting a proper clean even when using it in combination with my electric toothbrush. I just feel that my teeth aren't clean enough whilst using this toothpaste. Overall, I wouldn't recommend this toothpaste purely based on that it doesn't leave my mouth feeling clean enough to my liking.