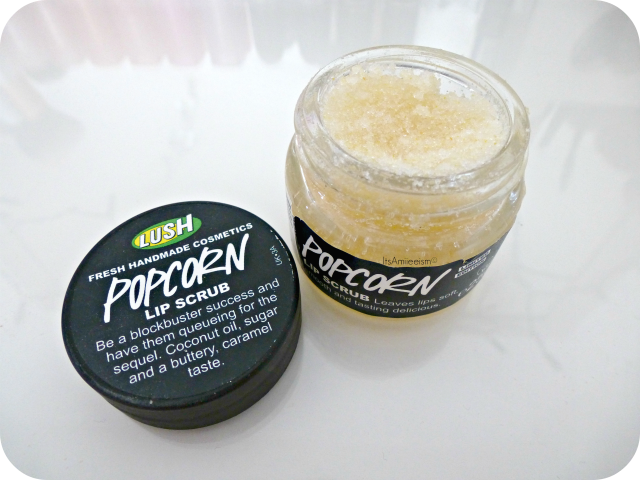 My first venture into Lush's infamous lip scrubs was their Pow Wow offering which was a mixture of popping candy, jojoba oil, organic rose hip oil, caffeine powder and a touch of lime which made it by far their most chunkiest lip scrub which technically didn't use sugars or salts to create the exfoliating base. Fast forward a few years later and I decided to try out another in the form of Popcorn which is quite the blockbuster success amongst fellow bloggers.
Lush's Popcorn Lip Scrub contains sugar, sea salt, polenta (cornmeal boiled into porridge and then either eaten directly or baked/fried/grilled), coconut oil and jojoba oil which creates the perfect buttery, sweet and salty delicacy that we seem to chow down every time we go to the cinema. I for one wish I had tried a little bit in store as when I brought it home and tried it, I thoroughly disliked it. It's not so much the texture which is very fine and powdery but it's more so the taste. It tastes just how it should do just it's far too salty for my liking which tastes slightly buttery at the same time.. Buttered salt anyone?!
Taste and texture aside, I cannot fault it's exfoliating properties as it definitely removes any dry patches and leaves my lips feeling softer than before. As with any exfoliating lip treatment, make sure you pop on a little lip balm afterwards to make sure you keep your lips soft and moisturised. Despite it doing a good job at exfoliating, I just cannot get on with the taste and for that reason, I shall never repurchase it in this particular scent/flavour. I think I should perhaps give their more famous Bubblegum one a go next..