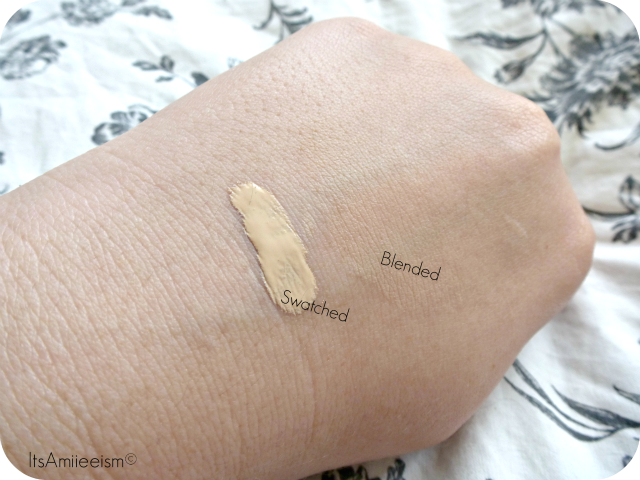 If you remember my

#NottsBBMeet Haul

post, you will have seen that I purchased the

Laura Mercier Silk Creme Foundation

. I thought that this will be my holy grail foundation, the only foundation I reach for etc. Sadly, I do not like it nor do I get on with it and I've gone more in

to depth in my review of it as to why I don't think it's worth the hype.

A few weeks after that fiasco, I noticed that there were quite a few rave reviews cropping up of the Bourjois Healthy Mix Serum Foundation which I've had my eye on for quite a few months. Armed with little sample pots, I dispensed some of every shade into a different pot to take home to test out myself. A few days later with a gift card in hand, I walked out of Boots with shade 51 in hand.
The Bourjois Healthy Mix Serum Foundation is unlike most foundations as it's gel based. It's made up of a vitamin rich fruit therapy formula which helps to even out the complexion with an instant anti-fatigue result. It helps to erase any imperfections, smooth out any signs of fatigue and boost the skin's radiance for up to sixteen hours - all with an even, natural finish with no mask like effect.
Unlike other foundations, the Bourjois Healthy Mix Serum Foundation feels extremely light on the skin when blending in and gives a natural finish whilst adding radiance to the face. It gives medium-ish coverage so it covers most imperfections such as scars. However a little concealer soon covers up breakouts if coverage is an issue. It has a rather fruity smell which may be an issue for some people however I personally don't have a problem with it. I find that shade 51 - Light Vanilla is a perfect match for my skintone which is difficult to find as I have neutral undertones (I think!) I've noticed that this doesn't oxidise nearly as much to make it noticeable. I don't normally use powder so I get roughly 5 - 7 hours wear out of it before I notice that it's disappeared in places. This is defin

itely making it's way to be holy grail status as it's absolutely perfect. However, I wouldn't mind giving the Radiance version a try next ;)
You can purchase the Bourjois Healthy Mix Serum Foundation from

both

Superdrug

and

Boots

for £10.99.
At the time of writing this post, the Boots website doesn't seem to have it on their website anymore

hence why I've linked the Radiance version instead.