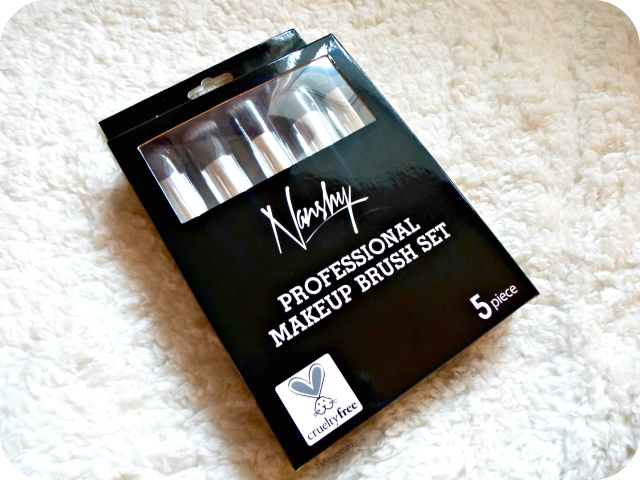 Over the past few months, I've been getting more into my makeup brushes and have slowly been building up quite the collection. My all time favourite brand of brushes just has to be Real Techniques and my favourite brushes by them are the Buffing Brush and the Expert Face Brush, both of which are perfect for applying, blending and buffing in foundation. So when Liam asked me what I wanted for Christmas, it was definitely a no brainer and I asked for the Nanshy Face Brush Set which I just so happened to open up on Christmad Day.
The Nanshy Face Brush Set comprises of five full sized make up brushes, all of which can be used to apply various bases to your face in different ways. The handles are wooden, varnished and rather weighty but I've personally found them easy to hold and work with. All the bristles are synthetic which means that they're 100% cruelty-free and vegan friendly. What I like the most about these is just how soft they are! The bristles themselves are densely packed so they pick up product well. Whenever it comes to washing them, I do a double cleanse with both Johnson's Baby Shampoo and an anti-bacterial hand wash and I haven't had any shedding from the brushes.
Best for mineral blushes, loose powders and bronzers.
This is the only brush that I've used a handful of times and thus I cannot say what I use it primarily for. Whenever I have used it, the angle of the brush has been brilliant for contouring and sculpting the face whilst the flat top blends it all out beautifully.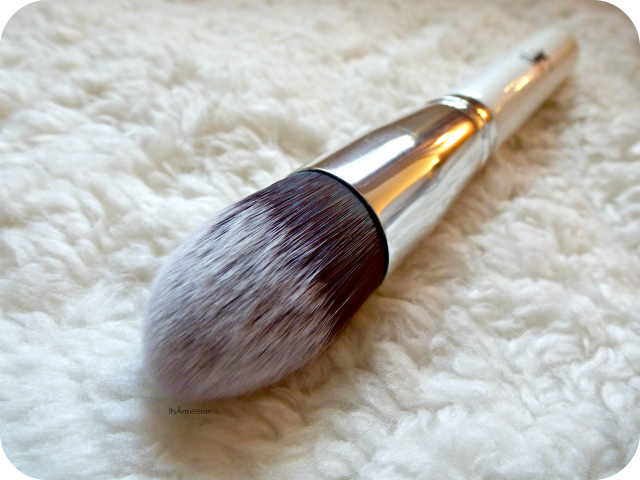 Best for cream/liquid foundations and concealers.
This cleverly crafted pointed brush makes blending an ease especially in those difficult areas like in the corners of the eyes, around the nose and mouth. I like using this for my concealer under my eyes as the pointed yet rounded point is perfect for blending and buffing it in seamlessly.
Best for cream/liquid highlighters, bronzers and blushers.
This is just like the Round Buffer Brush except it's angled which makes applying cream and liquid products incredibly easy. I like using this with my Benefit High Beam as it blends it in so seamlessly. This would also be the perfect brush to use with cream bronzers to contour the face as the slight angle would make it easy for anybody just getting to grips with contouring.
Best for liquid/cream foundations.
The round, slightly domed shape of this brush makes applying any liquid/cream base products a dream as it buffs them into the skin creating a flawless finish. I personally prefer this for buffing in foundation around my nose as it helps prevent any cakiness from appearing.
Best for mineral/powder/liquid/cream foundations.
This is your typical kabuki style brush which is ever so similar to the Real Techniques Buffing Brush except it's slightly more dense. I expect that this would be the brush to use if you prefer mineral/powder foundations however I find it perfect for buffing it foundation particularly on my cheeks.