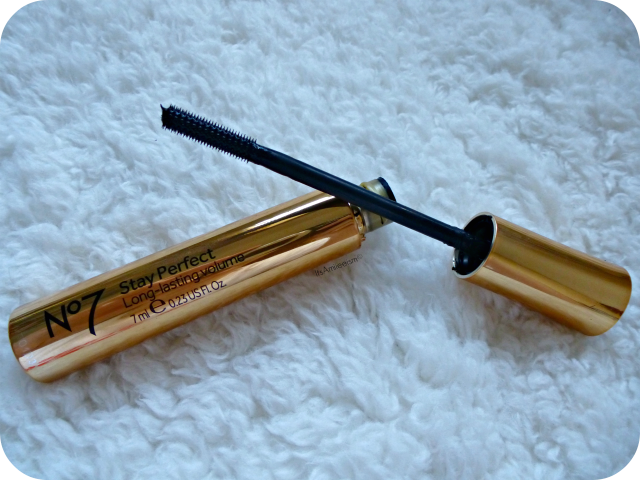 The No7 Stay Perfect Mascara was the first mascara I bought after I stopped wearing eyelash extensions. It's one of those mascaras that is billed as being the perfect mascara as its smudge proof, flake proof, sweat proof, humidity proof and even tearproof. The mascara itself comes housed in a chic gold tube which eerily mimics YSL packaging just without the hefty pricetag. It has a plastic straight wand which means you can tilt it at any angle and it will still coat the lashes.
On first uses, I really did not get on with this mascara. I found that the formula was far too wear and it wasn't give my lashes any length and just left them looking rathy stumpy. That was until I received a sample of the No7 Extreme Length Extend Mascara and used it in conjuction with the Stay Perfect and I found that this was literally a match made in heaven. I found that the Extreme Length Extend literally extended my lashes and made them look longer whilst the Stay Perfect gave volume and definition. Whilst that duo was incredible, I've noticed that the space of a few weeks, the Stay Perfect Mascara dried out slightly which meant that it was perfect for using on my bottom lashes as it slightly defined them.
I find that this mascara definitely lives up to its claims and it is literally perfect. I found that it wouldn't budge at all on those days when work got to me or when I was running around everywhere and it even takes using two different makeup removers just to remove it. I would highly recommend this mascara for anybody that is looking for the perfect summer mascara as you won't be disappointed!