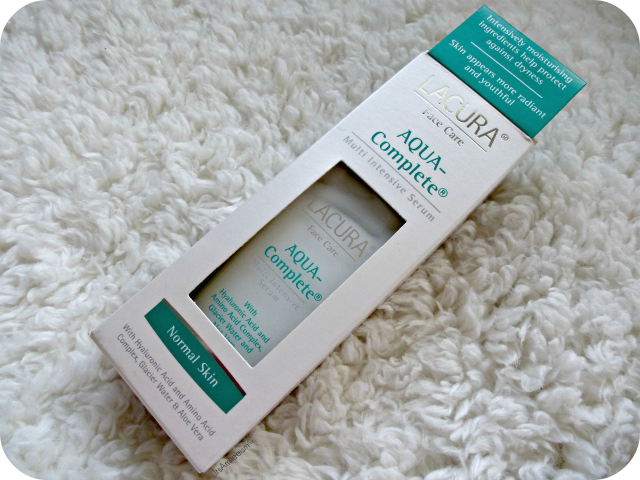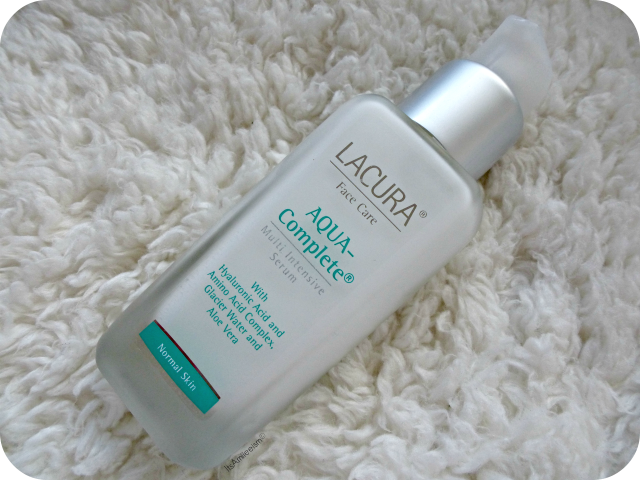 I discovered Hydraluron around the time that Caroline Hirons made it the product to buy and after reading countless reviews, I was sucked into the hype yet I didn't actually splash out on it until December 2013. Between the time that it was made famous and the time that I bought it, I discovered the Lacura Aqua-Complete Multi Intensive Serum after reading a review on
Hello Terri Lowes blog

and thus rushed out to buy it.
Unlike Hydraluron, the Lacura Aqua-Complete Multi Intensive Serum comes housed in a frosted glass bottle with a pump action dispenser which distributes the perfect amount to cover your entire face/neck area. It comes out as a white, watery liquid that once massaged into the face, feels light weight which sinks into the skin instantly and you can proceed to apply your night time moisturiser on top. Whilst this may not contain the same ingredients, this does however contain glacier water, aloe vera, amino acid complex and of course hyaluronic acid.
I've noticed that since using this for the past seven months, my face has looked a lot more hydrated and I don't suffer with overly dry skin anymore. Whilst I do think this product was responsible for quite a few bad breakouts when I first started using it, I stuck to it and my skin sorted it out. I find that makeup now applies better and doesn't start wearing away after only a few hours wear. I also don't have to use quite as much moisturiser to keep my skin hydrated which is a definite plus. Overall, I do much prefer this over Hydraluron purely because it doesn't leave my skin feeling tacky and instead leaves my skin feeling soft, smooth and ready for my moisturiser of choice. Whilst it may not be an exact dupe, I do think that this gives Hydraluron a good run for its money and if you don't fancy splashing out the cash for Hydraluron, it might be worth giving the Lacura Aqua-Complete Multi Intensive Serum a go.
Did you know that for the price of one tube of Hydraluron, you can buy Lacura-Aqua Complete Multi Intensive Serum seven times?