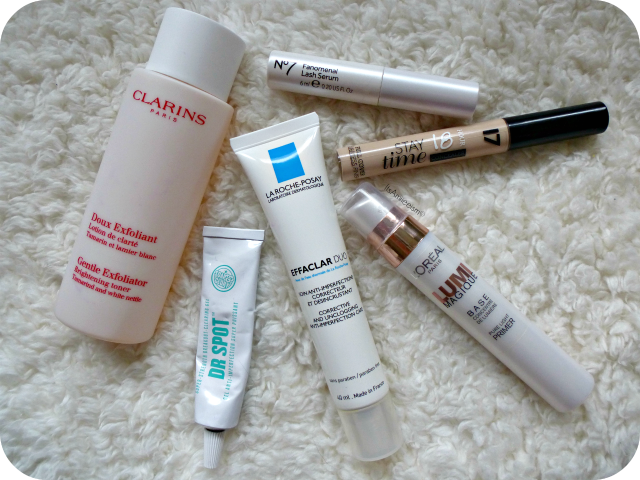 The Clarins Gentle Exfoliator Brightening Toner has been perk up my rather dull skin as well as helping to exfoliate it. I use this primarily at night as I like to think that it does more for my skin than using it in the morning. I've noticed that this has made some improvement in my skin tone so I'm hoping that with continued use, the results will only get better. The La Roche Posay Effaclar Duo combined with Soap & Glory Dr. Spot have been helping keep any pesky breakouts at bay and have made quite the dream team. Any breakouts have reduced in appearance within a day and it's definitely down to this duo.
I've been having issues with scarring left over from spots throughout January so I've been religiously using the 17 Stay Time Concealer to help cover them up. I much prefer this over the Collection Lasting Perfection Concealer as it covers up any scarring/blemishes a lot better and has a better shade range. I've been using the L'Oreal Lumi Magique Pure Light Primer as a base before I apply any foundation and I find that my skin looks more awake and dewy. This is also the perfect primer to use with the Estee Lauder Double Wear as it doesn't cake! Lastly, I've been coating my eyelashes with the

No7 Fanomenal Lash Serum

both day and night almost and I feel that this has made the biggest improvement with my lashes which I think is partially down to the application as it has a much wider brush thus coating my lashes more.