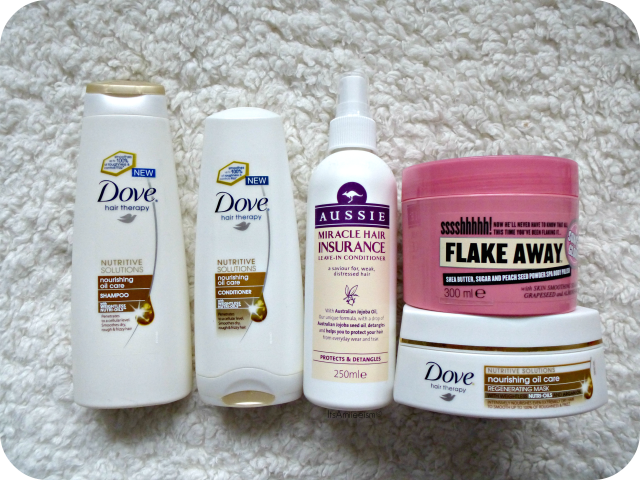 I've used up the

Dove Nourishing Oil Care Shampoo + Conditioner

duo which helped to keep my hair soft and tamed any frizz. I absolutely loved the scent of it and I may consider repurchasing them in the future. I've also finished up

Dove Nourishing Oil Care Regenerating Mask

which was a more intensive version of the conditioner. I mainly used this whenever my hair needed a deep condition and this helped tremendously. I've used up the

Aussie Miracle Hair Insurance Leave-In Conditioner

which I use as a detangling spray mainly which does the trick at removing any tangles and leaves my hair feeling soft. I will continue repurchasing this! I've finished up a pot of the

Soap & Glory Flake Away Body Scrub

which is by far one of the most grittiest body scrubs I've come across! This has helped buff away any lumps and bumps on my arms whilst not overly drying out my skin.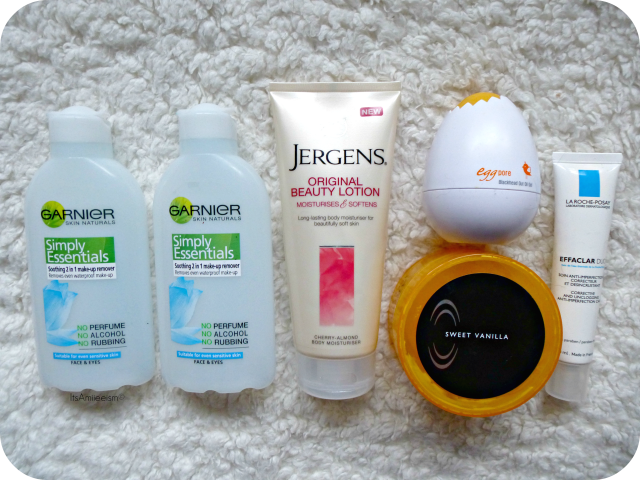 I've used up two bottles of the

Garnier Simply Essentials Soothing 2 in 1 Make Up Remover

. This helps to remove any stubborn makeup and leaves my skin feeling clean and ready for a second cleanse. I've finished up a tube of

Jergens Original Beauty Lotion

which you sadly can no longer purchase in the UK! This smells exactly like batternburg cake (cherry almond) and definitely did the trick at moisturising my body. I've used up a tub of the

Arora Body Butter in Sweet Vanilla

which smelt heavenly but sadly finished up far too quickly. This sunk into my skin quickly and kept it moisturised. I didn't technically finish the

Tony Moly Egg Pore Blackhead Out Oil Gel

as it gone off. The times when I did use it, I didn't notice much of a difference with the amount of blackheads and I now consider it to have been a waste of money. I've used up the

La Roche Posay Effaclar Duo

which has been helping with any breakouts I've had. It's a very light weight gel consistency which works to unclog pores and helps purify them whilst helping to prevent any future breakouts.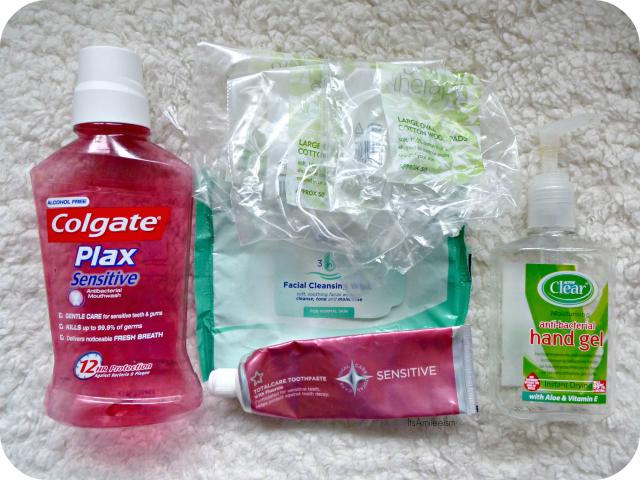 I've finished up a bottle of the

Colgate Plax Sensitive Mouthwash

which is the only mouthwash I use. It helps kill any germs or bacteria whilst providing protection for my sensitive teeth. I will always repurchase this! I've used up a pack of the Lacura 3 in 1 Facial Cleansing Wipes which will be the last pack I'll use as I've found something better. I used these for everything but removing makeup and they certainly did the trick. I've finished three packs of

Skin Therapy Large Oval Cotton Wool Pads

which are the best cotton wool pads I've come across! They're large enough to remove makeup/used in conjuction with toners and they don't fall apart at the first sign of moisture. I've used up a tube of the

Superdrug Sensitive Toothpaste

which although it did help with my sensitivity, I didn't find it to be anything special so I won't be repurchasing. I've finished up the Active Clear Moisturising Anti-Bacterial Hand Gel which I keep on my skincare shelf. I use this mainly for when I'm doing my skincare routine and it helps keep bacteria at bay whilst not drying my hands out.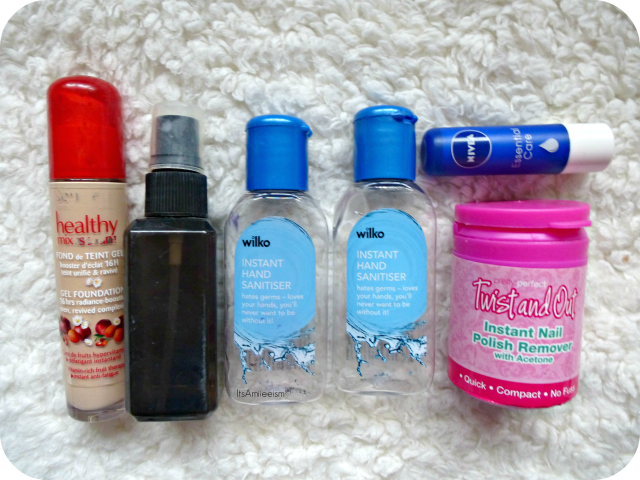 I've finally finished up my

Bourjois Healthy Mix Serum Foundation

which I've had going for about ten months now or so! This has buildable coverage without feeling heavy on the skin and matched my skin perfectly. I've already repurchased this but in the Radiance version. I've used up a bottle of ELF Makeup Mist & Set which I did start using for its intended purpose but then switched to using it to dampen my makeup sponge which works better as I didn't feel that it helped make my makeup last any longer. I've gone through two bottles of

Wilko Instant Hand Sanitiser

which I have in so many places now! They're cheap as chips and do the trick - what more could you ask for? I've finished a pot of my beloved Pretty Perfect Twist & Out Instant Nail Polish Remover which is the only nail polish remover I use. Although the sponge inside can get a little grubby, it still removes nail varnish perfectly well and I will continue to repurchase. Finally, I've finished up a tube of Nivea Essential Care which is my go to lip balm. It keeps my lips hydrated throughout the day and doesn't need topping much quite as much which makes it one of my all time favourite lip balms!