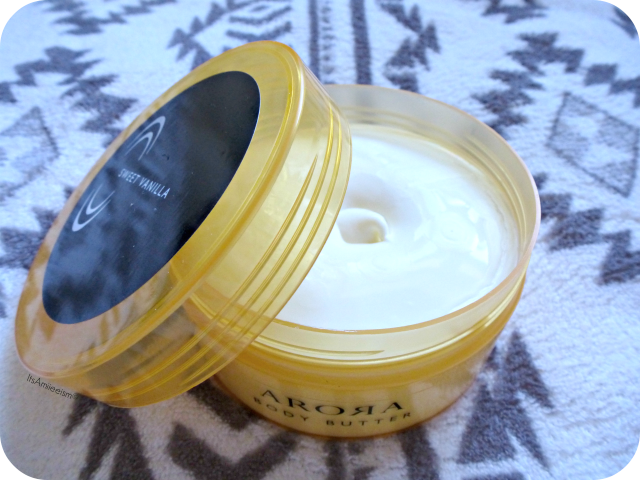 If you remember my review of the

Arora Body Butter in Pink Grapefruit

then you will know that I was a big fan of how moisturising it was on my skin. So much so that I decided to try out a different one in the form of Sweet Vanilla. The Arora Body Butter in Sweet Vanilla is both luxurious and moisturising with the sweet fragrance and extract of vanilla and rice milk. It contains nourishing shea butter and glycerin which not only helps to moisturise the skin but makes it feel soft and smooth after massaging it in.
Unlike the Pink Grapefruit, Sweet Vanilla doesn't smell too artificial although I can't actually tell as I love all things vanilla. The difference between the two is that this one literally melts to the touch which makes massaging it into the skin like a dream as it sinks into the skin almost instantly. As it does melt quite easily, I've found that I'm going through it at an alarming rate so I wouldn't be surprised if this features in my next monthly empties post. As much as I do love the scent and how moisturising it is, I doubt I would be repurchasing it purely because I want a body butter/lotion to last a few months with almost daily use instead of having to buy a new one every month.
Have you tried any of the Arora Body Butters?