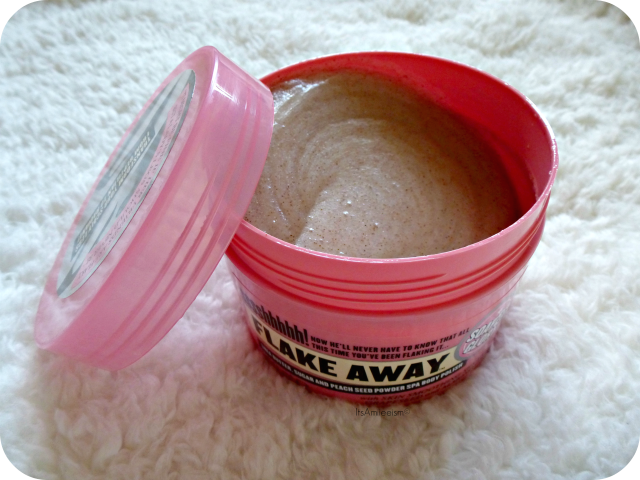 Soap & Glory are one of those brands that can do no wrong - their products are adored by everyone and their pet goldfish and their packaging stands out amongst other bath/shower products. One of the first ever products that I tried from Soap & Glory was a teeny tiny travel sized pot of their infamous Flake Away Body Scrub a few years ago which got me hooked. Fast forward a few years and I've now stockpiled quite a fair few of their products which I'm slowly making my way through so I thought I better start no further than the one item that got me hooked in the first place - their Flake Away Body Scrub.
Unlike other body scrubs, the Soap & Glory Flake Away Body Scrub is a fine, jelly like consistency that is jam packed with gritty particles and oil that helps buff the skin into smoothville. It contains shea butter, sugar and peach seed powder, sea salt, grapeseed and almond oils which makes this body scrub smell simply divine.
I like to scrape out quite a generous amount and buff it into damp skin concentrating on the tops of the arms where I suffer with many lumps and bumps. Once washed off, my skin feels a lot softer than before and smooth to the touch. Whilst it doesn't get rid of all the lumps and bumps, I find that using it continuously over a few weeks gets rid of them entirely. I've noticed that if I don't moisturise after using this, my skin can feeling a little dry and tight so make sure you moisturise after using this!
What is your favourite Soap & Glory Body Scrub?