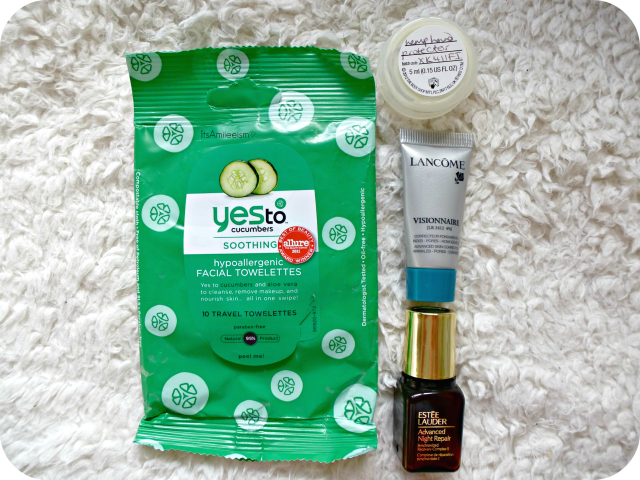 I've used up the

Yes To Cucumbers Soothing Facial Towelettes

which I received back in the April Birchbox which I then took with me to America. I quite liked these as they were the perfect travel size and were rather refreshing. I have since purchased three more packs of these just to take with me on the go as I haven't suffered any reactions to them unlike most. I've finished up a sample of the

Estee Lauder Advanced Night Repair II

which I do own in full size but have a lot of facial oils to be use up before I crack it open. I found that it made my skin appear more radiant in the morning which is surprising as its a rather weird consistency.
I've used up another sample of the

Lancome Visonnaire Advanced Skin Corrector

which helped make my skin feel a lot softer and reduced the appearance of uneven texture on my cheeks. Whilst I do like what it does for my skin, I won't buy it in full size as I've discovered something which is essentially the same just a lot cheaper. Finally, I've used up a pot of

The Body Shop Hemp Hand Protector

which I absolutely hated the scent of but found that it did wonders for my feet. It helped keep them moisturised and soft all day long. I may consider buying this in the full size for the sole purpose of using it on my feet but I've got too many foot creams to use and not enough feet.