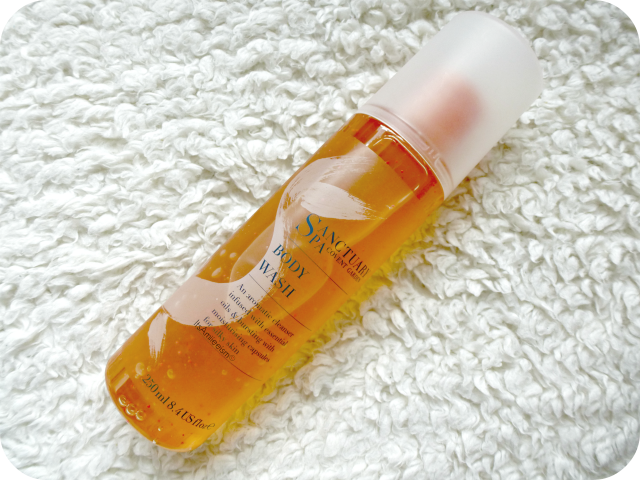 If like me you have back ups of back ups then you call feel my pain when you feel swamped with products. In a bid to reduce my uncontrollable stash, I've been trying to use up a certain amount of products before I allow myself to buy more although that is a lot easier said than done especially with the offers that Boots seem to have on everything at the moment. I received the Sanctuary Body Wash in their Top To Toe Glow Pamper Tin back at Christmas and I've finally dug it out and started using it.
The

Sanctuary Body Wash (£5.50)

contains a revitalising blend of essential oils and spices which helps cleanse and refresh the skin whilst teeny tiny capsule beads filled with jojoba oil and sesame burst on the skin, adding some much needed nourishment for a silky smooth finish. On first appearances, it doesn't look like anything special as the product comes housed in a clear pour style bottle where you run the risk of pouring either too much or too little.
When I first used this, I couldn't get over the scent as it smells absolutely beautifully which is definitely down to the blend of essential oils and spices. Whilst it doesn't lather up quite as much as other shower gels, it does leave your skin feeling silky soft and clean. The scent lingers on your skin for a little while after using so if you don't like that then this may not be up your street. Despite it being housed in quite a large container, it doesn't last as long so you may end up going through this quite quickly which may be an issue as it does seem rather pricey for a shower gel. I quite like using this but I can't see myself splashing out for it as there are better shower gels out there for a fraction of the price.