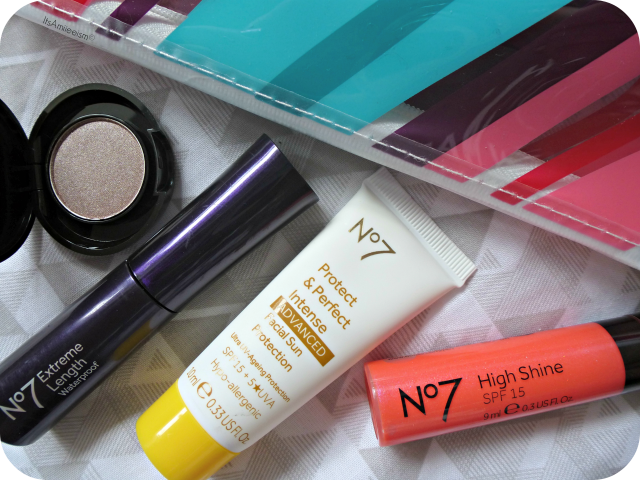 Out of all the free gifts with purchases, the No7 ones are by far some of my favourites! They always have atleast one of my favourite products included in each gift and I've even discovered a few new products from their gifts. They seem to do the same offer every two or three months where you have to purchase two cosmetics in order to get the free gift. This time around, No7 have decided to do a Summer Beauty Bag seeing as Summer is just around the corner and in order to receieve this gift, I walked away with two nail varnishes which will be featured in my next post..
Included in their brightly coloured bag is a sample size of their Extreme Length Waterproof Mascara which is one of my favourite mascaras. It helps define each lash whilst adding incredible length to give the appearance of false lashes whilst coating them in a waterproof seal that will not budge or flake off. Also included in a full size High Shine Lip Gloss in Tangerine Twist which smells suprisingly fruity and which you do need to apply a few times to get the full effect.
To combat the hot sun, No7 have included a sample of their Protect & Perfect Intense Advanced Facial Sun Protection SPF15 which is no where near enough high sun protection for the likes of Greece but is passable for our typical British Summer Sun. Unlike most facial sun protections, this doesn't feel sticky or greasy after application albeit feeling a little thick when applying. Lastly, they've included a Stay Perfect Eyeshadow which is the middle shade from the Good Earth Trio which is by far one of my most used eyeshadow colours! It's a beautiful shimmery bronzey taupe shade which looks good either by itself or in a smokey eye.